Alabama Agricultural & Mechanical University (AAMU)
William Hooper Councill, educator and race leader, was born into slavery in Fayetteville, North Carolina on July 12, 1849. His parents were both slaves on the Councill plantation. When William was five, his father escaped to Canada and tried unsuccessfully to obtain freedom for his family.
In 1857, William; his mother; and his brother, Cicero were sold at the Richmond slave market to a trader, who in turn sold them to a planter in Alabama. His two other brothers were sold separately. He never saw them again.
When Union troops occupied Chattanooga during the Civil War, Councill and his family escaped through Union lines to the North. He returned to Alabama in 1865 to attend a school for freedmen started by Quakers. This would be Councill's only formal schooling. He worked and studied for three years before graduating in 1867.
For several years, Councill worked as a teacher in the black public schools in Alabama while moonlighting as a porter in hotels and restaurants. In 1869, at the age of 22, he opened William Hooper Councill Alabama Agricultural & Mechanical University (AAMU) Lincoln School in Huntsville for Black children in the region. In addition to his teaching duties, he attended night school where he studied chemistry, mathematics, law, and Latin. Councill was admitted to the Alabama bar, but he never practiced law in the state.
Councill's ambitions extended into politics and he became the chief enrolling clerk of the Alabama House of Representatives between 1872 and 1874. He also served as secretary of a national civil rights convention in 1873. In 1874 Councill ran unsuccessfully for a legislative seat. One year later he was offered the federal patronage position as receiver of public lands for northern Alabama. Councill declined the post.
In 1875, the Alabama legislature appointed 26- year-old Councill as the first principal of the State Colored Normal School at Huntsville, which is now known as Alabama A&M University. The school opened on May 1, 1875 with an appropriation of $1,000 in the basement of a Huntsville church. The Colored Normal School would train Black teachers to work in Alabama's segregated school system. By the mid 1880s, it rivaled Tuskegee Institute in Central Alabama as a premier vocationalindustrial training facility.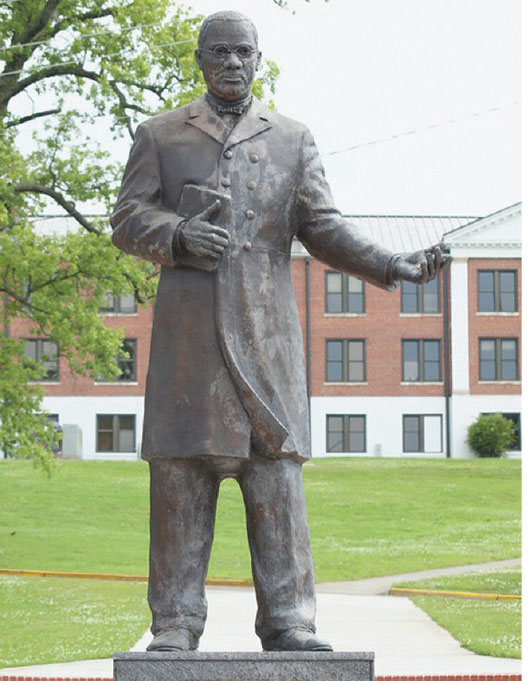 Despite his achievements, Councill had his critics. As a contemporary of Booker T. Washington, he and the Tuskegee principal often competed for favors and funds from the Alabama legislature and northern philanthropists. Councill went even further than Washington in his attempt to win the favor of southern whites by appealing to the upper class's sense of paternalism and racial superiority. In 1877 Councill founded the Huntsville Herald, which he published and edited until 1884. The following year he established St. John African Methodist Episcopal (AME) Church in Huntsville. Councill also wrote several books including, Lamp of Wisdom (1898), Negro Development in the South (1901), and The Bright Side of the Southern Question (1903).
In 1887, he gained national attention when he filed a discrimination lawsuit against the federal Interstate Commerce Commission after being ejected from a first-class car on an Alabama train. He won the suit, but at a great personal expense. He briefly lost his job as president of the school when the legislature lawsuit threatened to close the school if he remained its head, but was reinstated after settling the case. Councill then concentrated on expanding the institution. Councill was also a prolific orator and author. He was passionate about many topics, but primarily all of his writings and speeches focus on race, education, and African Americans in the work force.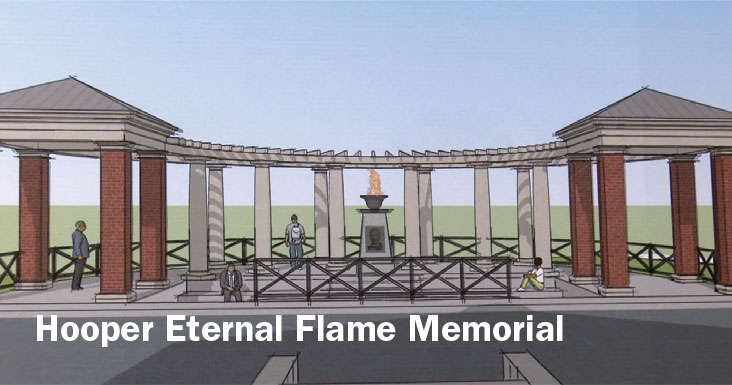 Councill died on April 9, 1909, having been president of AAMU for 32 years. He is buried on the campus of the university, and each year on Founder's Day in May, the school celebrates his contributions to African American education. Because of his enduring legacy and contributions to the city of Huntsville, the first public school for African Americans in Huntsville. William Hooper Councill High School was named in his honor, as was the public housing community Councill Court.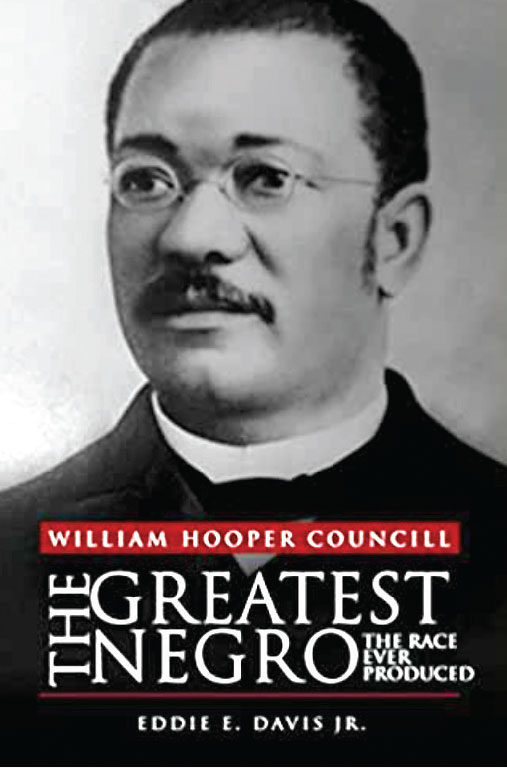 Works by William Hooper Councill
The Negro Laborer: A Word to Him (1887)
Lamp of Wisdom (1898)
Negro Development in the South (1901)
The Servant Problem in the South (1901)
Bright Side of the Southern Question (1903)
Additional Resources
Eddie Davis Jr. William Hooper Councill:
The Greatest Negro the Race Ever Produced. Huntsville:
Presh4word Publishing, 2013.
Morris, Vivian, and Curtis L. Morris. The Price They Paid.
New York: Teachers College Press, 2002.
Acknowledgement:
Publisher Adrian Arthur Council Sr. is a descendant
of the Councill family of Fayetteville and White Oak, NC.