The Godfather of Funk George Clinton feted in Newark and Plainfield
The City of Newark held a funky celebration in honor of The Godfather of Funk, George Clinton ahead of his birthday concert at the New Jersey Performing Arts Center. The celebration, on March 17 at Avon Avenue Elementary School, Clinton's alma mater, included the unveiling of the band room renamed in his honor. "The George Clinton Band Room" features a mural of the iconic musician and rows of new instruments from pianos to drums, guitars, and more—some of them donated by Clinton.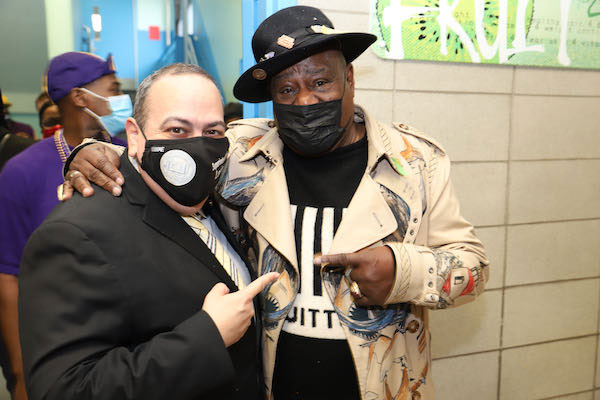 At 9:30 a.m., rows of students grades K -2 lined the walls at the school's entrance to welcome George Clinton with streamers, music, and applause. A parade of students with hula hoops (a nod to Clinton's history of working at a hula hoop factory while waiting for his music success), guided him into the cafetorium. Encouraged to dress in their "funkiest" clothes in honor of the musical icon known for his out-of-this-world attire and costumes, students performed a concert of Clinton's hits. Clinton joined in, urging guests and participants to "get funky" with him. The school's orchestra performed the song "Flashlight" while Clinton clapped and danced in his seat.
During a Q&A with the famous musician, students asked about his inspirations, humble beginnings, and favorite pastimes. Clinton spoke about the beginning of his band on Avon's playground, inspired by musical superstars Frankie Lymon and The Teenagers. "It's so crazy to me now, thinking back—looking at the students here, how small I was. We were so young." The former student reminisced about how his teachers heard him and his bandmates sing and play and cheered them on, which led, finally, to the creation of Parliament Funkadelic.
"In honoring Mr. George Clinton, we not only honor him as the man and legend that he is, but we honor him as a student, one of ours," said Superintendent Roger León. "Can you imagine? He started everything he is and has accomplished here, as a student of Avon Avenue Elementary School."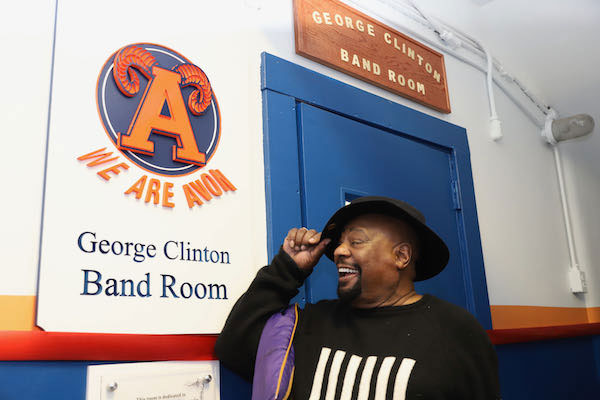 "We produce skilled leaders who positively impact their community and the world," said Principal Charity Haygood, who bestowed the title "Godfather Ram of Funk" (meaning supreme) on Clinton. "I thank you from the bottom of my heart for returning and inspiring our scholars to be the best that they can be."
Plainfield, New Jersey also honored the Funkmaster, naming a portion of Plainfield Avenue, from Front Street to West Fifth Street, Parliament Funkadelic Way. Mr. Clinton, who calls both Newark and Plainfield hometowns, met with leaders and children of the Queen City, as Plainfield is known, at the Second Street Youth Center.
Clinton took to social media to thank Newark and Plainfield, "for giving P-Funk the warmest…funkiest welcome ever." —TPC Staff