Newark Beth Israel Medical Raises the Flag for Pride Month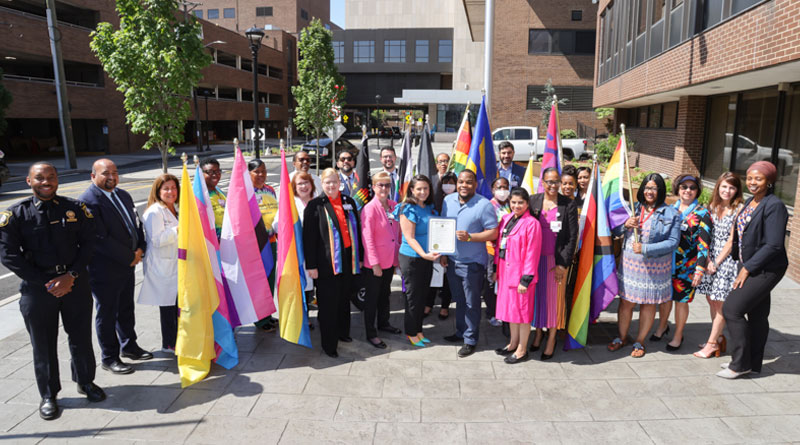 Employees Host Annual Flag Raising Ceremony in honor of LGBTQ+ Pride Awareness Month
Newark Beth Israel Medical Center and Children's Hospital of New Jersey, an RWJBarnabas Health facility, raised the flag in celebration and recognition of National LGBTQ+ Pride Awareness Month.
Newark Beth Israel's employee Business Resource Group, P.R.I.D.E (Providing, Respect, Inclusion, Dignity and Empowerment) hosted the annual event, supported by the hospital's Office of Diversity & Inclusion.
Senior leaders and employees were joined by Beatrice Simpkins, Director of Newark Partners in Health, Detective Brian Holmes, Newark Police Detective and LGBTQ Community Liaison for the Newark Police Department and Reginald Bledsoe, Director of the Essex County Office of LGBTQ Affairs. Bledsoe presented Newark Beth Israel with a Proclamation from the Office of the Essex County Executive, Joseph N. DiVincenzo, Jr. recognizing Newark Beth Israel Medical Center's diverse LGBTQ+ community.
"Newark Beth Israel and Children's Hospital of New Jersey are committed to delivering world class, inclusive care in a safe environment for all patients, including the LGBTQ+ population and other traditionally marginalized communities. We have received six HEI designations for delivering inclusive care to the LGBTQ+ community and this ceremony is just one of the ways in which we foster awareness and celebrate our employees, patients, and all the communities that we serve," said Darrell K. Terry, Sr., MHA, MPH, FACHE, FHELA, Newark Beth Israel Medical Center and Children's Hospital of New Jersey.
Newark Beth Israel Medical Center has received six consecutive Healthcare Equality Index (HEI) designations and Children's Hospital of New Jersey at NBIMC has also received two HEI designations for promoting equitable and inclusive care for LGBTQ+ patients and their families.
The flag raising marks the beginning of a month of events at Newark Beth Israel Medical center to celebrate LGBTQ+ Pride Awareness.
"It is important for us to gather each year to honor and celebrate the LGBTQ+ community and allies. This flag raising represents our commitment to advocating and educating around issues that impact the LGBTQ+ community at large," said Atiya-Jaha Rashidi, MHA, RN, Chief Equity Officer, and Vice President of Community Relations.
The following flags will be on display at Newark Beth Israel throughout the month of June, they include: Ally Flag, Bisexual Pride Flag, Coexist Flag, Equality Pride Flag, Gender Fluid Pride Flag, Intersex-Inclusive Pride Progress Flag, Intersex Pride Flag, Nonbinary Pride Flag, Pansexual Pride Flag, Philadelphia People of Color Inclusion Flag, Progress Pride Flag, and Transgender Pride Flag.
Newark Beth Israel Medical Center, an RWJBarnabas Health facility, is a 665-bed regional care teaching hospital that provides comprehensive health care. Newark Beth Israel is a Top Teaching Hospital and home to one of the nation's top 15 heart transplant centers, which has performed more than 1,100 heart transplants. NBI has been designated a World's Best Hospital-USA by Newsweek and has six consecutive "A" grades for safety from The Leapfrog Group. The hospital has earned the Joint Commission's Gold Seal of Approval for acute coronary syndrome, congestive heart failure and ventricular assist device and is nationally accredited by the Commission on Cancer. Newark Beth Israel is home to RWJBarnabas Health's Heart Failure Treatment and Transplant Program; New Jersey's only Advanced Lung Disease and Transplant Program and a Valve Center that performs complex cardiac valve procedures, including minimally invasive transcatheter aortic valve replacements (TAVRs). Newark Beth Israel Medical Center is also home to Children's Hospital of New Jersey (CHoNJ), which cares for children from birth through adolescence, with more than 30 specialized pediatric services including New Jersey's largest Valerie Fund Children's Center for Cancer and Blood Disorders; and the Children's Heart Center that offers a complete range of medical and surgical treatments for the most complex cardiac abnormalities. The Newark Beth Israel robotic surgery program is the most experienced in northern New Jersey. RWJBarnabas Health and The Frederick B. Cohen, MD, Comprehensive Cancer and Blood Disorders Center at Newark Beth Israel Medical Center and the Healthcare Foundation of New Jersey Breast Health Center, in partnership with Rutgers Cancer Institute of New Jersey – the state's only NCI-designated Comprehensive Cancer Center – brings a world class team of researchers and specialists to fight alongside you, providing close-to-home access to the latest treatment and clinical trials. Newark Beth Israel also offers many preventive health programs that promote wellness in the community, including The Beth Greenhouse, which provides access to fresh produce and health and wellness education to local residents.