'Dreams Do Not Come Easy'
Diane Recinos, EdD, President of Berkeley College (right), presents a diploma to Rheba Singh of
Brooklyn, NY, who earned a Bachelor's of Business Administration in Management, during the
Berkeley College Commencement ceremony on May 13, 2022, at Prudential Center in Newark, NJ.
Berkeley College Celebrates More Than 1,400 Graduates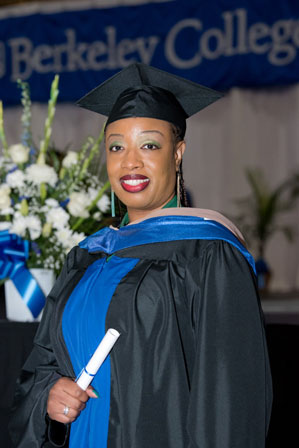 Berkeley College celebrated more than 1,400 graduates who persevered through the COVID-19 pandemic to earn diplomas, during a Commencement ceremony on Friday, May 13, 2022, at Prudential Center in Newark, NJ. The graduating class included 116 military and veteran graduates, 73 international students from 30 countries, 104 students earning Master of Business Administration (MBA) degrees, future healthcare heroes and many firstgeneration college graduates who reflect perseverance and resilience as they step toward brighter, more equitable futures.
"Dreams do not come easy," said Diane Recinos, EdD, who presided over her first Commencement ceremony as President of Berkeley College. "But you already know that, for you have persevered through a pandemic, in addition to deal ing with the unforeseen circumstances and everyday responsibilities of your lives."
Recinos added: "As you set your compass to the future, let your dreams be your inspiration and your Berkeley College education be your guidepost."
The average age of this year's Berkeley College graduate is 30 years old, with 67% of the graduates age 25 or older. Nearly 80% of the graduates who identified their ethnicity in a survey identify as Black or Hispanic. Elizabeth Davis, a working mother from Morris Plains, NJ, graduated with an MBA, her third degree from Berkeley College as she pursues a career in healthcare management. "I chose to stay with Berkeley College because I felt appreciated and they (faculty and staff) basically cultivated me and made me feel included," said Davis.
For the past 14 years Davis has been employed as a certified home health and hospice care aide to patients in advanced stages of illness. Her advice to future college students is, "Never give up – believe in yourself."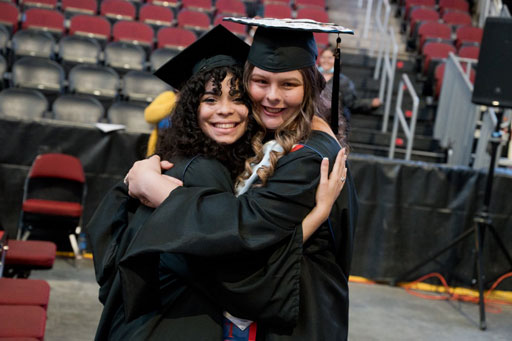 Nearly 100 students graduated with a Bachelor of Science in Nursing or Practical Nurse certificate, entering the workforce at a critical juncture in healthcare, when one-third of nurses plan to leave the profession.
Commencement honorees included three first – generation college graduates. Gabrielle "Gabby" Peralta, a U.S. Marine Corps veteran who hopes to become a small business owner running a fleet of bakery trucks, was named Student of the Year. Nallely Inoa, the daughter of parents who immigrated from poverty in the Dominican Republic seeking a better life for their daughters, served as Student Speaker. Jonathan Santiago, Class of 2005, a leader in the New York City Department of Education who helps students find a pathway to higher education, was honored as Alumnus of the Year. The graduates join the ranks of 65,000 Berkeley College alumni from around the world.
Read more Commencement stories at:
www.BerkeleyCollege.edu/Newsroom