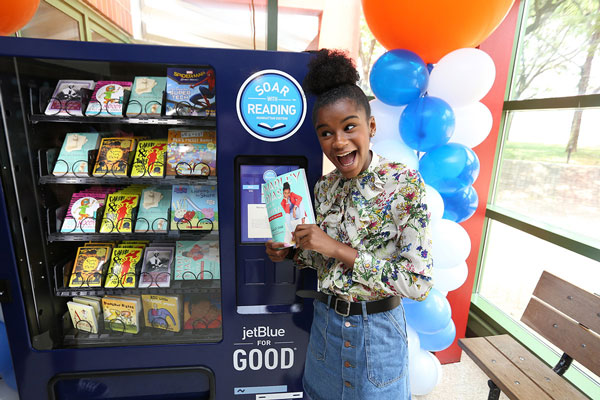 "Soar with Reading" Vending Machines in Newark
These new vending machines are not what you'd expect. You don't need change and they don't dispense candy, chips, or soda. Instead, youngsters can get books! This summer, young folks in Newark can find knowledge and inspiration from one of five vending machines located around the city.
Designed to encourage a summer of reading for students, the vending machines are a part of the twelfth annual JetBlue Airways "Soar with Reading" program. Each year, the airline runs the program in a different city and this year the program is in Newark.
Children can scroll on what looks like a giant tablet and order free books. They place their order and the books are delivered to the same location in about one week.
"It's important to give out books to children who might not have their own books," said Icema Gibbs, VP of corporate responsibility at JetBlue.
To date, JetBlue has donated more than $4 million worth of books to children in need. The program runs through August.
Vending machines are located at:
La Casa de Don Pedro, 23 Broadway
Leaguers, 200 W South Orange Ave
Newark Ironbound Recreation Center, 226 Rome Street
Springfield Branch Library, 50 Hayes Street
Van Buren Branch Library, 140 Van Buren Street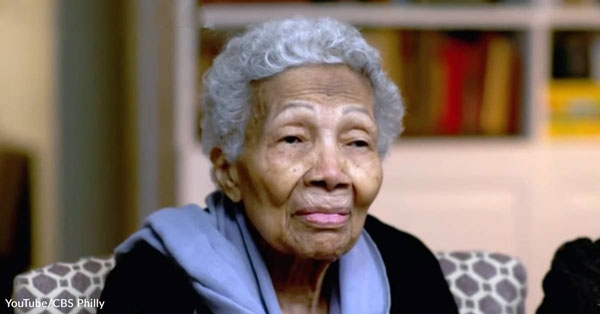 Black Female World War II Battalion Receives Congressional Gold Medal
Cresencia Garcia contracted COVID-19 in her nursing home in April 2020. Her 100th birthday was only a week away, and Cresencia's family wondered if they would ever see her again. They knew she was strong and a fighter but so much about coronavirus was unknown at the time.
Thankfully, Cresencia's determination and fighting spirit helped her survive, and this year she turned 102. But that is not her entire story. It turns out that Cresencia is one of a few surviving members of the 6888th Battalion, the all-Black female battalion of the Women's Army Corps sent from the U.S. to Europe during World War II.
That's right, few people know about the 855 Black women who served in the segregated unit. Puerto Rico-born Cresencia served as a medic in England, caring for injured soldiers of all colors.
In March of this year, President Joe Biden signed the Six Triple Eight Congressional Gold Medal Act of 2021 into Public Law 117-97. The legislation awards the Congressional Gold Medal to the 855 members of the 6888th, a long overdue recognition for their service.
Thank you to Cresencia Garcia and the other women of color who served our country.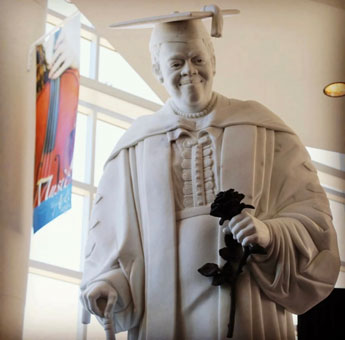 Mary McLeod Bethune Makes History
A statue of a Black woman stands tall in Statuary Hall in the U.S. Capitol for the first time in history. Unveiled by Speaker Nancy Pelosi in July, the larger-than-life sculpture of educator and civil rights activist Mary McLeod Bethune replaces one of a confederate general.
The National Statuary Hall Collection in the United States Capitol is composed of statues donated by individual states to honor persons notable in their history and is limited to two statues per state. Bethune's statue was donated by her home state, Florida.
The daughter of formerly enslaved people, Bethune founded the National Council of Negro Women, advised multiple U.S. presidents, and created a boarding school for Black children—which later become Bethune-Cookman University in Daytona Beach, Florida.
Florida Democratic U.S. Rep. Kathy Castor said at the ceremony that Bethune epitomizes all of the values the state holds dear, from industriousness to thirst for education to desire to build peace.
The statue depicts Bethune wearing a cap and gown and a pearl necklace, holding a black rose, her pet name for her students. Inscribed on the base of the pedestal is one of Bethune's most famous quotes: "Invest in the human soul. Who knows, it may be a diamond in the rough."