Assemblywoman Inez E. Dickens
Champion of All Things Harlem
By Glenda Codagan
It is said that Assemblywoman Inez E. Dickens owns politics in Harlem. Some even call her the dean of Harlem politics. She, however, shrugs off the title with stubborn insistence that the crown still belongs to former Congressman Charlie Rangel, one of her mentors throughout her political life. "What I am is the Dean's protégé," she told The Positive Community.
Influencers
Indeed, Dickens' politics, informed and guided by many stalwarts, reflects their input. Chief among them were her father, the late Harlem businessman and New York State Assemblyman Lloyd E. Dickens, and her uncle, the late Assemblyman and State Supreme Court Justice Thomas K. Dickens. Another strong influence in her life was the powerhouse group known as the Gang of Four, which included: David Dinkins, the first Black mayor of New York City; Basil Paterson, a New York State lieutenant governor and attorney; Percy Sutton, Manhattan Borough president (all three deceased); and former Congressman Charles Rangel.
Sutton's influence is a particularly interesting story. As Dickens tells it, Sutton—a civil rights activist and lawyer and political rival of her father, opposed him in elections 13 times. "Thirteen times he ran against him and thirteen times he lost. Yet, when Sutton ran for mayor, my father gave him a loan of a quarter million dollars in order to make his campaign financially viable." she said. "You see, my father was not interested in holding a grudge. He believed we had a real shot at having our first Black mayor and to him, that was more important than holding onto a political grudge." Sutton received the full gamut of support of the powerful Dickens-led New Era Democratic Club in that failed 1977 run for mayor.
After her father's death, the Gang of Four—in particular Sutton and Rangel—took an interest in the political career of "Little Betty" as she was affectionately called. "When my father died I was not yet elected to office, but they saw something in me that I did not see in myself at that time. Percy Sutton became one of my staunch supporters and Congressman Rangel mentored me every step of the way."
Early Days
Without a doubt, Lloyd Dickens was a man ahead of his time. And it showed not just in his public politics but his personal life as well. Certainly, at that time in the 50s and 60s when Little Betty was coming of age, Black dolls wereunheard of. Yet her father painstakingly had Black dolls made for Dickens and her older sister. He also ensured she had an amplesupply of Black enrichment books. One in particular, A Pictorial History of the Negro in America, was at the center of a life-defining experience when she was just 7 years old. "One day I was playing with my friends on the stoop and I decided to bring out my book to share with them about slavery and how we came to America. I was so excited." Others saw it differently, however. "I remember when my father told me that some parents informed him they no longer wanted me associating with their children. I could not understand it," she recalled. "It hurt me dearly and does so to this day. But I also still have that book," she added.
Although heartbroken by the loss of three friends for being "too conscious," such influences fueled Dickens' political life from the New York City Council to the New York State Assembly. Elected to the City Council in 2006 representing the 9th District encompassing Central Harlem, Morningside Heights, East Harlem, and parts of the Upper West Side, she became known as a passionate fighter for basic civil and human rights, social justice, wage equity, inclusion, and diversity. During her tenure on the City Council, she brought millions of dollars in services and resources to economically distressed communities throughout the city and rose to the leadership position of majority whip. After winning the 2016 election by an overwhelming 93 percent, she continued that fight in the New York State Assembly—taking an active role in economic development and support of minority and women-owned business enterprises (MWBEs)
Another memento in Dickens' possession is a handwritten letter sent to her father from the late Dr. Martin Luther King Jr. "These were the kinds of people I grew up meeting and seeing in the flesh as they came to see my father," she said. "In addition to Dr. King, I also saw and met John F. Kennedy and Lyndon B. Johnson."
Champion of All Things Harlem
No doubt her father was influenced by the politics of his father, a Garveyite. "My family was originally from Oklahoma but with the rampant racism there, my grandfather took his 10 children to live in Canada. When he heard about the Marcus Garvey Movement, he returned to America with the aim of going back to Africa with the UNIA," she explained. "History tells us how that turned out."
With this kind of consciousness in her family, it was customary for her father and his brothers to gather at the kitchen table every Saturday to discuss all things political. The Dickens clan believed politics and economics went hand in hand and one couldn't exist without the other. On the business end, the family owned and operated the history making Lloyd E. Dickens Real Estate Company in Harlem.
This history influenced and penetrated Dickens' career, making her a fierce champion of all things Harlem. "I love this community with all my heart," she said. "I was born in Harlem and lived here all my life except when I went to college. I am proud of everything I was able to accomplish for my constituents and beyond."
Among those accomplishments: funding for Silicon Harlem; the upgrade of Morningside Park; refurbishing the public libraries on 115th and 124th Street; the installation of security doors and cameras in almost every NYCHA building in her district; and most recently, 177 Units of real affordable housing. She is also well known as an anti-gang violence activist and helped support the creation of organizations such as Harlem Mothers S.A.V.E (Stop Another Violent End), headed by Jackie Rowe-Adams.
Despite her achievements, Dickens would rather be remembered for who she is than what she did. "In time people are going to forget all these things. Though my name is engraved on the steps of Morningside Park, one day that sidewalk is going to be upgraded and people will forget that too. So, what I want people to remember about me is that foremost I was a spiritual person who loved God and believed in a higher power. And next, that I was a fierce and tenacious fighter for Harlem and gave it all I got."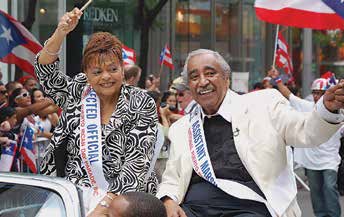 When she is not on the political battlefront, Dickens enjoys spending quiet evenings at home watching old movies and reading mystery novels and autobiographies. It comes as no surprise that one of her all-time favorites is Gunsmoke, the old television series routinely placed among the best shows of any kind and any time. Certainly, there seems to be more left in the political guns of Inez E. Dickens. Bets are she will keep Dickens and Charles Rangel them smoking for a long time to come.