Harlem School of the Arts Names New President
Harlem School of the Arts (HSA), The Herb Alpert Center, proudly announced the appointment of James C. Horton as the seventh president of the organization on September 8, 2022. With Horton's former position as vice president of Education and Engagement at the Museum of the City of New York, he brings a wealth of experience to his new position. HSA, founded in 1964 by internationally acclaimed African American concert soprano Dorothy Maynor, offers world-class training in music, dance, theater, musical theater, and media & design to children ages 2-18. The organization encourages students to reach their full potential through interdisciplinary arts training that celebrates the rich complexity of the African American community.
On his new role at HSA, Horton said, "Organizations like this one have played a vital role in the conversations we have been having over the past couple of years, as we navigated through a global pandemic and explored questions and ideas around what justice, equity, and a just society truly mean, and how it relates to our work as art makers and culture bearers."
Horton, who studied theater and communications at Southern University in Baton Rouge, Louisiana, is the recipient of several national awards and has been an invited keynote speaker and presenter at both global and national conferences focused on education, arts, culture, and community engagement. Horton, a longtime Harlem resident, will have a short commute from his home where he lives with his partner and four children.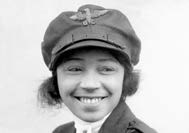 Bessie Coleman Tribute:
All-Black Female Crew Flies High!
An all-Black, all-female American Airlines flight crew channeled the spirit of Ms. Bessie Coleman, who performed the first public flight by an African American woman in 1922. The fight from Dallas to Phoenix celebrated 100 years of Black female empowerment and Black girl magic. The crew consisted of Black women in every spot from the pilot and flight attendants to the cargo team and the aviation maintenance technicians.
"American is being intentional in its efforts to diversify the flight deck," airline officials wrote in a news release. "Black women have been notably underrepresented in the aviation industry—especially as pilots, representing less than one percent in the commercial airline industry."
The airline hosted Gigi Coleman, Bessie's great-niece and CEO/ president of the Bessie Coleman Aviation All-Stars tour, which recognizes how Coleman bravely broke down barriers within the world of aviation and paved the way for many others. Coleman earned her pilot's license in 1921 in France when she was denied training in the United States because of her race.

Gymnastic History Made! Black Girls Rock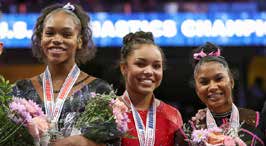 An historic first in women's gymnastics took place on August 21, 2022 in Tampa, Florida. Three Black women—Konnor McClain (17), Shilese Jones (20), and Jordan Chiles (21) stood on the championship podium proudly accepting their medals (gold, silver, and bronze respectively) as the 2022 all around U.S. Gymnastic champions.
For years, since women gymnasts first competed as teams in the Olympics in 1928, tiny women lacking melanin dominated the sport. Dominique Dawes and Betty Okino changed that when they competed and made the team in 1992. Black girls have competed individually and on teams at all levels with great success. For example, Gabby Douglas won the all-around gold Olympic medal in 2012, paving the way and showing Black girls they can also fly high. Simone Biles, one little girl who watched Gabby, won seven Olympic medals and recognition by many as the gymnastic GOAT (Greatest of All Time). There's no doubt that the accomplishments of Simone, Gabby, Konnor, Shilese, and Jordan continue to motivate many other little Black girls to become tomorrow's gymnastic champions tumbling, swinging, and jumping into our hearts.