Dealing with the Dream Under Threat NAN 2023 Convention
National Action Network (NAN) Founder and President Rev. Al Sharpton called upon the nation's top government officials, entertainers, activists, scholars, media personalities, and financiers to participate in the 2023 National Action Network Annual Convention in New York City. And they did.
With its theme, "Dealing with the Dream Under Threat," the timing of this year's convention—a week after the 55th anniversary of the assassination of Dr. Martin Luther King Jr. and on the eve of the 60th anniversary of the historic March on Washington—was most appropriate. Among those in attendance at the conference, which took place April 12th through April 15th, were Kerry Washington, Tyler Perry, the Mothers of the Movement, news figures Michelle Miller and Lawrence O'Donnell, and business titans Robert F. Smith and Earvin "Magic" Johnson.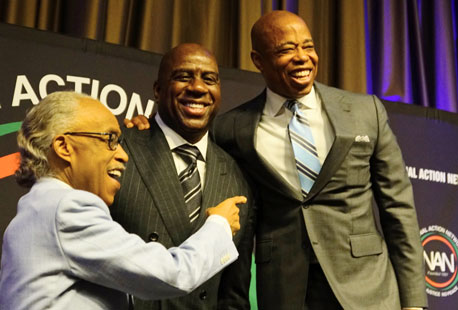 Leaders of the Black Church included NAN and the Conference of National Black Churches (CNBC) Chair Dr. W. Franklyn Richardson. Vice President of The United States Kamala Harris delivered the keynote address. —TPC Staff