Revitalizing Newark's Black Barbary Coast
Lincoln Park Coast Cultural District's 20th Anniversary
By Barry Carter | Photos By Tamara Fleming
Anthony Smith didn't know what to expect. He was sitting in the middle of Newark's Lincoln Park, on a sunny Monday morning taking direction on how to connect with the audience who would see this portrait. "I want you to think about the purpose of why you are here,'' said Tamara Fleming, a well-known Newark based photographer.
It was obvious to Smith, the executive director of Lincoln Park Coast Cultural District (LPCCD). A Newark non-profit organization celebrating 20 years of work that has transformed this neighborhood through the arts, culture and music.
At the southern end of Broad Street, people leisurely walked through the park on this day, some stopping to see what was going on. A family set out a blanket for a picnic. One child rode a bicycle, the other a scooter.. Nestled between the trees strings of bistro lights sparkle through the park at night. Seasonal pop-up art will soon dangle from the thick cable that connects them, another visible sign that there's a lot to delight in this neighborhood where 60,000 people gather annually for a three-day music festival.
"When you're in the community and you see it from that lens, you see how beautiful the community is,'' Smith said. "You can see it as a gem."
It is a crown jewel rooted in a rich historical legacy that cannot be forgotten. It's an enclave Smith has tried to make better than it was before he became the organizations leader eight years ago.
Surrounded by mansions and brownstones, the grassy shaded city square and neighborhood is one of Newark's three original downtown parks. The others, Washington and Military anchor the northern end of the Broad Street.
Lincoln Park, however, had notoriety during the early 20th century. It was known as the Coast, a nickname earned in the 1920s and 1930s when Black businesses and jazz clubs lit up the booming nightlife on Halsey Street. After performances in New York, jazz musicians made their way to the Coast, where Lincoln Park reigned as the center of African-American life. Within that historical footprint, Lincoln Park was also home to New Jersey's first television station, WATV Channel 13, which debuted on May 15, 1948 from studios at The Mosque Theater, now known as Newark Symphony Hall.
When Dr. Theresa Hooper Marshall, a longtime resident, opens the time capsule to this era, she has vivid childhood memories of wealthy families going in and out of the stately homes around the park. "I used to have my blanket and watch people in limousines from the big families, not knowing that area would deteriorate," Hooper Marshall said.
Lincoln Park lost its splendor and style when the 1967 Newark rebellion left the city in ruin. Residents fled to the suburbs, giving up homes that became abandoned and dilapidated. Urban blight set in and during the decades that followed, the landscape took on a new appearance with open air drug sales, prostitution, and a sense of hopelessness.
"The neighborhood was off the grid,'' Smith said. "It kind of felt like the community that was forgotten." That is until community activists, legislators and stakeholders came together in the late 1990s. They met in each other's homes to reclaim an iconic gateway no longer recognizable as Newark. The late Rutgers University Professor and historian Clement A. Price, who lived in Lincoln Park, was a key player. So were activists' Fredrica Bey and the late poet and activist Amiri Baraka, who had the foresight for an organization that would restore Lincoln Park to its glory through the arts, culture and music.
From those early charettes, the Lincoln Park Coast Cultural District was born in 2002 to reimagine the historical neighborhood with creative place making, a concept where art and culture bring about community change.
Hooper Marshall, the founding chair, recruited Baye Adofo-Wilson, the first LPCCD executive director. He steered the hybrid organization toward housing and economic development to address issues impacting a neighborhood with hidden treasures that needed to be unpacked and rediscovered.
"This neighborhood had the bones historically to be an amazing community, but the whole ecosystem was broken,'' said Smith, a Newark native, whose life has been dedicated to this work.
The goal was simple: build a strong, resilient community through its people while taking the long road in redevelopment to ensure that Lincoln Park is around when future generations reside there.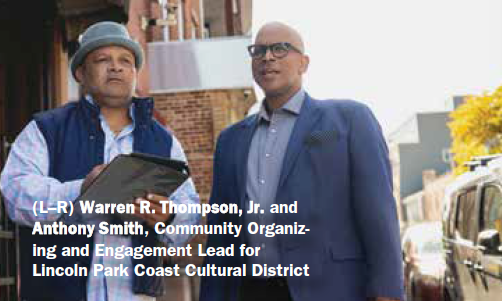 "You don't want something that's going to be gone in five years,'' said Smith. "When people look back 20 years, they'll say, 'Wow, this is how you really build a sustainable community.''
LPCCD was on its way before nearly shutting its doors when the economy crashed in 2008. The recession affected grant funding LPCCD received from foundations. Homes it had built lost value and the organization's debt seemed insurmountable. To survive, even as it somehow built 68 units of housing during that time, LPCCD shifted temporarily from its mission to design and develop a vibrant comprehensive arts district. "When we were crippled, I felt like we were on one leg, like a three-legged stool,'' Smith said. "We were trying to figure it out.''
The organization generated revenue differently to maintain a neighborhood presence. It ventured into property management, job training and economic empowerment programs and residents walked away with skills in weatherization, solar panel and geo thermal insulation. LPCCD launched a community farm along the way, and kicked off the popular Lincoln Park Music Festival that has been around for 15 years. We relied on our skill set to keep the engine moving forward,'' Smith said.
They strengthened relationships with residents using a 10-year neighborhood plan and leaned on its many community partners, chief among them Prudential Financial. This anchor institution in Newark has been with LPCCD from the outset, providing some $2 million in grants along with technical expertise from senior level executives to help the organization with strategic marketing and communication.
But even with this corporate giant in its corner, challenging times lay head for LPCCD, a Black Indigenous People of Color (BIPOC) organization with limited resources. The Covid-19 pandemic struck, forcing LPCCD to regroup again and figure out the best course to sustain and grow the community. With every milestone and setback, LPCCD managed to forge ahead and develop more than 100 units of residential and mixed use projects totaling more than $40 million.
"The Lincoln Park Coast Cultural District is a pillar in the Newark Community," said Shané Harris, president of The Prudential Foundation. "We were one of their early supporters and remain committed to helping them elevate opportunities for residents thro
Newark Mayor Ras Baraka, with his father's insight, recognizes how critical Lincoln Park is to the city's downtown development. In June, the mayor created the Newark Arts and Education District and Lincoln Park is included. "Since its inception, the Lincoln Park Coast Cultural District has been working diligently and with passion to bring about a transformation on the southern end of Broad Street that will leave an enduring footprint for generations to come in the Lincoln Park neighborhood," Baraka said. "With the arts and cultural programming as the driving economic engine, LPCCD has not wavered over the last 20 years to create a vibrant community with housing that residents want to call home. "This is why I included Lincoln Park in the Newark Arts and Education District. That district will enhance the downtown arts and educational institutions, galleries, parks, public art, and restaurants that contribute to the city's culural legacy and inclusive economic development. LPCCD is a destination now, a place for people to work, live and play.
All one has to do is look around. Families walk their dogs and sit on the grass and residents frequent the neighborhood bodegas. The therapeutic community – Integrity House and Cura Inc—has always been there utilizing the park when it moved into the mansions during the troubled years.
Remember those bistro lights? LPCCD introduced them to the park last Christmas, and they are not going anywhere anytime soon. "We all need light. No one wants to be in the dark,'' Smith said. "The lights shift the trajectory of how people see themselves and what they think." They are welcoming, providing a sense of safety to the neighborhood. People can look out of their windows and see who is in the park. Demographically, the Lincoln Park experience is home to 3,500 to 4,000 Black and Latino residents, a diverse intergenerational mix of young people, seniors, and artists. More projects, however, are in the pipeline, namely a 60-unit development behind the column façade that serves as an entry point to Lincoln Park on Broad Street. The "I Am Lincoln Park" project is on the way, too. It's a touching video of residents and stakeholders who explain why Lincoln Park is important to them.
LPCCD is turning the corner again, giving hope to residents who desire a walkable community with cafes, shops and boutiques. As the changes surface, Hooper Marshall sees the organization she chaired until last year as a major force that continues to blossom.
Smith does, too. As he was about to leave the park, he mused, ""You see the work that you have done. To be sitting there, and have people walking by, inquisitive, asking what are you doing. It felt good.'' And it should. Happy 20th Anniversary.
Barry Carter is an award winning journalist and columnist.