Saving Our Own Community: Remembering Rev. Dr. Calvin O. Butts III
Adrian Council
Publisher's Desk
We are saddened by the recent loss (October 28,2022) of our friend Rev. Dr. Calvin O. Butts III. He appeared on the cover of The Positive Community (TPC) magazine more than any other person. We owe much to this great and good man; a mighty torchbearer, for his kindness, courageous leadership and wise counsel.
We extend our sincerest condolences to the Butts family and the mighty Abyssinian Baptist Church congregation. Go to thepositivecommunity.com and view Dr. Butts' last interview with TPC as he was in the process of retiring after 20 years as president of SUNY College at Old Westbury. In the video he speaks about his early childhood, family, communi-ty service, faith and values.
With all that's been said about this extraordinary man of God, perhaps we should note his extensive involvement with colleagues and members within the Baptist denomination.
Dr. Butts was an active member in the Baptist Ministers' Conference of Greater NY and Vicinity. This clergy leadership organization meets every Monday at Convent Avenue BC in Harlem. Each year, the Conference, with much enthusiasm, hosts Pastor Butts as the guest preacher for the annual Rev. Adam Clayton Powell Day, worship service celebrating the contributions of a Civil Rights icon, US Congressman and legendary pastor of Abyssinian BC (1908–1972).
Abyssinian Church is a participating member of United Missionary Baptist Association of NY (an organization of 168 churches in Manhattan, Bronx and Lower Westchester) and the Empire Missionary Baptist Convention of NY, representing Baptist churches from Montauk Point, Long Island, to Niagara Falls, NY. Among his fellow clergy, Dr. Butts was a compassionate friend, wise counselor and mentor to many, regardless of church size or status.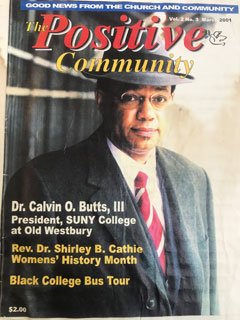 Nationally, Rev. Butts was chair of the Election Supervisory Commission for National Baptist Convention, USA, Inc. At the annual national convention (over 20,000 in attendance) in New Orleans, in September of 2014, Dr. Butts oversaw and certified the election of the current president, Dr. Jerry Young, of Jackson, MS, leader of the 8.1 million member organization of clergy and churches.
Our friend, Calvin Butts, was ever an agent for positive change—indeed a "Soul Brother" in the truest sense! There is so much more to be said about this mighty servant of God and man.
Editor Jean Nash Wells and The Positive Community team have elected to publish a special keep-sake Tribute Edition in the name of Rev. Dr. Calvin O. Butts III. TPC's annual January/February MLK/Black History Month issue will be superseded with a celebration of the life and times of this beloved Harlem pastor. Stay tuned for more details!
Our American Story
Notwithstanding the New Year's holiday, January 1 is one of the most significant dates on the American calendar, especially for the African American people. On that day in 1863, 160 years ago, an executive order, the Emancipation Proclamation, signed by President Abraham Lincoln went into effect, freeing 3.5 million of our ancestors held captive in the Confederate states. On that day 200,000 Negro troops were mobilized tofight on the side o f the Union Army. And yes, on t hat day it went from being called a War to Save the Union to a War to End Slavery; a Civil War that cost over 700,000 American lives. Shout—out to the descendants of Union Army soldiers who made the ultimate sacrifice on the battlefields, for American freedom!
It was a first step that eventually led to the passage of the Thirteenth Amendment in 1865, abolishing slavery in the USA forever. At The Positive Community, we refer to these historic times as a spiritual and cultural event; the season of The Great Emancipation.
Two questions: 1) Are we teaching our young people about the Watch Night church tradition and blessings of The Great Emancipation? 2) How should we observe America's Emancipation Day on its 160th anniversary, January 1, 2023? The African American Cultural Narrative, first published in 2012 is the real story about who we truly are: beloved sons and daughters of the Most High God; mighty descendants of the Great Emancipation—1863!
Imagine if every single church, across all denominations and faiths, would invite a young person to read the Cultural Narrative or feature the video before the congregation at the midnight Watch Night service. What if all music ministries concluded their service with a sing-along of the popular civil rights anthem, We've Come this Far by Faith?
Go to thepositivecommunity.com to download your free copy of the Cultural Narrative and view the video.
A Seat at the Table
On Saturday February 25, 2023, Black History Month, all roads lead to Newark NJ's Robert Treat Hotel. The story of our American freedom journey continues. It's The Positive Community's 4th Annual Great American Emancipation Awards Banquet. We come together to demonstrate appreciation of and gratitude for all that which is ours; for many who sacrificed their all for the freedoms we enjoy today!
On this occasion, we reflect on our collective triumphs; and forecast and celebrate present and future achievements! The Positive Community will honor outstanding individuals and organizations that demonstrate through unselfish, loving service, a commitment to the ideals of community progress, and positive change! On this day, we begin the next 160 years of our great American story!
It's the "Function at the Junction" on February 25, 2023. Plenty of good food, entertainment, enlightenment and fellowship! Reserve your seat at freedom's table today! Visit our website thepositivecommunity.com to view highlights from our previous 2020 and this 2022 Emancipation Day Awards Banquets. So, Lift Every Voice and Sing . . .