Dr. Calvin 0. Butts Ill President of SUNY at Old Westbury
By Jean Wells
He wears many hats. He is a mover and shaker in the church, education, business and community service. And, though he might shy away from the subject, his political prowess is well known. Dr. Calvin O. Butts III is a native New Yorker and New Yorkers are truly blessed that he is there to serve them in so many different capacities. He is active in the total life of New York. The Positive Community caught up with Dr. Butts recently and sat down for a brief conversation. Here is a glimpse of this man on the move.
Butts left New York only long enough to attend Morehouse College in Atlanta, Georgia, where he said he was "a real Morehouse man." Today, he is a man of tremendous influence.
As senior pastor of the historic Abyssinian Baptist Church in Harlem, he minsters to a flock of thousands. With his goal of "moving forward in faith for the maintenance and expansion of its continuing Christian mission," under his leadership Abyssinian has embarked on a series of projects designed to improve the quality of life of the people of Harlem. One of the founders of Abyssinian Development Corporation, Butts has already seen the completion of senior citizen housing, moderate income condominiums, and the acquisition of the Renaissance Ballroom and Small's Paradise—two major historic landmarks in Central Harlem.
Deeply committed to education, he first pursued his own. After graduating from Morehouse with a degree in philosophy, young Calvin returned to New York and earned a Master of Divinity Degree in Church History from the Union Theological Seminary, and a Doctor of Ministry in Church and Public Policy from Drew University. With a penchant for education, Butts also turned his attention to teaching others—Urban affairs and African Studies at City College where he served as adjunct professor of Black Church History at Fordham University. The establishment of the Thurgood Marshall Academy for Learning and Social Change, a public intermediate and high school under the direction of the Abyssinian Development Corporation, was due in great part to his commitment.
In October, 2000 Dr. Butts was inaugurated as President of SUNY College at Old Westbury in Nassau County, Long Island. Just 20 miles from New York City, the college provides a small-town environment for its students, and a short commute for Dr. Butts, allowing him to wear his many hats most efficiently and effectively. Statistics bear out the fact Old Westbury has one of the most diverse populations of any school of higher learning in the U.S. The diversity of this country is manifest here: Fifty-seven percent of students are female, 29% African American, 8% Asian-American, 34% Caucasian, 15% Hispanic American, 0.4% Native American, and 1% international students.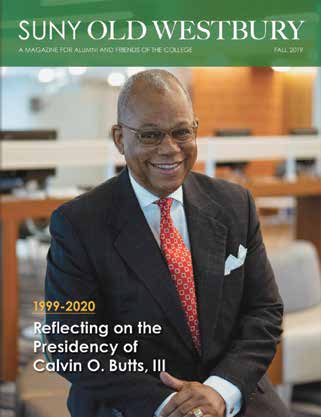 Butts says at Old Westbury "leadership is the focal point of our academic experience. "By leadership," he says, "we mean not only preparing our students to become captains of the 21st century, but also providing the social, practical, and analytical tools that will enable them to become pillars in their communities, be recognized for the virtue of their deeds and ethics, and flourish as part of an increasingly diverse, internationally savvy marketplace."
And he practices what he preaches. If his students were ever searching for a role model, he is it. A day in the life of Calvin Butts is a whirlwind of activity. In addition to his demanding duties at Abyssinian and Old Westbury, administering to the needs of more than 3,000 students and thousands of congregants, Butts finds time to serve as president of the Council of Churches of the City of New York, vice chair of the Board of Directors of the United Way of New York City, chairman of the National Affiliate Development Initiative of the National Black Leadership Commission on AIDS (BLCA), and a founding member of the organization's Board of Commissioners.
Sitting in his well-appointed office at Abyssinian Baptist Church, we couldn't help but be impressed by Pastor Butt's cool, gentle manner. It happened that the alarm system was being repaired at the time of our meeting. A blaring bell interrupted our conversation once or twice. An aide suggested we move to another office, but Dr. Butts motioned to us to say put. No excitement, no flailing of arms, or raising of voices. He calmly dialed the foreman on the job asking him to cease the bell ringing until we were finished with our meeting. The man is in charge. He gets things done. He wears many hats… and wears them well.