Dr. Butts Receives Honorary Doctorate from Morehouse
Originally appeared in The Positive Community April 2011 Issue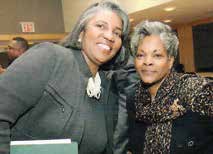 On March 2, 2011 Dr. Calvin O. Butts III, president of SUNY College at Old Westbury, received an honorary doctorate of Humane Letters degree from his alma mater, Morehouse College. Dr. Robert M. Franklin, president of Morehouse College, presented Dr. Butts (class of 1972) with the degree during a celebratory reception hosted by Old Westbury and the Morehouse Manhattan Alumni Association. In his remarks, Dr. Franklin noted that Butts had earned the degree based on his unyielding commitment to educational justice and economic empowerment in the global community. During his tenure as president of Old Westbury, Dr. Butts has garnered recognition for preparing students to succeed in the global marketplace, earning accreditation from National Council for Accreditation of Teacher Education, and securing funding to continue expansion of its campus.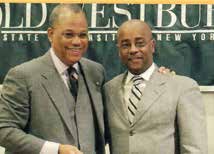 One of the most diverse public colleges in the United States, SUNY College at Old Westbury is located in Nassau County, New York and has over 4,300 students with an emphasis on liberal arts and professional fields. In addition to his twelve years leadership at Old Westbury, Dr. Butts is the pastor of Abyssinian Baptist Church in Harlem, and sits on several boards including Abyssinian Development Corporation, Youth On The Move, National Black Leadership Commission on AIDS, the American Red Cross of Greater New York, and the Levin Institute. He received a master of divinity degree in Church History from Union Theological Seminary in New York and a doctor of ministry in Church and Public Policy from Drew University in New Jersey.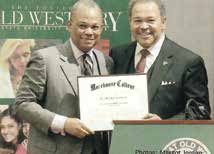 Joining Dr. Butts in celebration was the program's master of ceremonies, Garrick Utley, president of the Levin Graduate Institute of International Relations and Commerce; Davon Snipes, Manhattan Morehouse Alumni Association president; Johanna Duncan-Portier, vice chancellor for Community College and chancellor's deputy for the Education pipeline; and Gerri Warren-Merrick, a member of the SUNY Board of Trustees who delivered a congratulatory message to Dr. Butts on behalf of the State University of New York system. The reception was held at the SUNY Global Center in Manhattan.