Standing on the Shoulders of Giants: The Women Who Shaped Assemblywoman Shavonda Sumter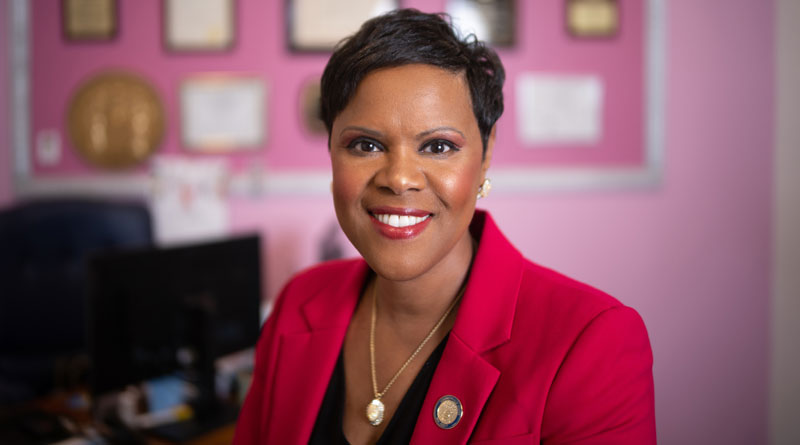 by A'Dorian Murray-Thomas,
SHE Wins Inc. Founder and CEO and Newark Board of Education Member
Who could have imagined an invitation from her friend Michelle to the community meeting in the basement of Canaan Baptist Church would lead to more than a decade of public service. No one, not even Assemblywoman Shavonda Sumter herself, knew then the seeds planted that evening would bloom for a lifetime.
Their neighborhoods teeming with factories, leading to poor air quality causing high asthma rates for residents, the Paterson Interfaith Community Organization (PICO) organized community members to ensure their voices were heard. "There's something we can do about this? We don't have to live this way? That was an aha moment for me," said Sumter. So she did something. As a young organizer, Shavonda began helping with PICO's petitions, drives, uplifting people's stories, and equipping them with the tools to make their voices heard. At the age of 17, Shavonda was already doing more than the average teenager. She was a leader in the student council and volunteered at local organizations, a life made possible by the hard work of women in her family. Women like her mother, who worked multiple jobs to put her and her brother through college; and her grandmother, a domestic worker who raised three girls on her own after the death of her husband. Her godmother, none other than Elease Evans, a pioneering political powerhouse, community advocate, and assemblywoman of the 35th Legislative District, nurtured Shavonda as a young leader. "I did not know so many seeds would be poured into me," she reflected. "The hands that were upon me, the prayers spoken over me to keep me covered…serving in my community was the training."
When Assemblywoman Evans experienced health challenges and chose not to pursue elected office again, she tapped Shavonda to run for the seat. In a sea of more than half a dozen male candidates, all currently in elected office and vying for the position, Shavonda stood out and secured the nomination. In her historic win in 2012, she became only the 2nd African American woman in history to serve as assemblywoman for the 35th Legislative District in New Jersey.
An historic time for African American women in politics in New Jersey, Sumter's House Chambers were led by then Speaker—now New Jersey Lieutenant Governor Sheila Oliver, and resounded with the words of leadership of fearless legislators like now Congresswoman Bonnie Watson Coleman.
As a voice of the voiceless, Shavonda continues to honor that legacy. She recently organized the first roundtable of Democratic women of the State Senate and Assembly to strategize around key issues affecting women in New Jersey, i.e. reproductive rights, education, child tax credits, equitable housing, and accountable policing.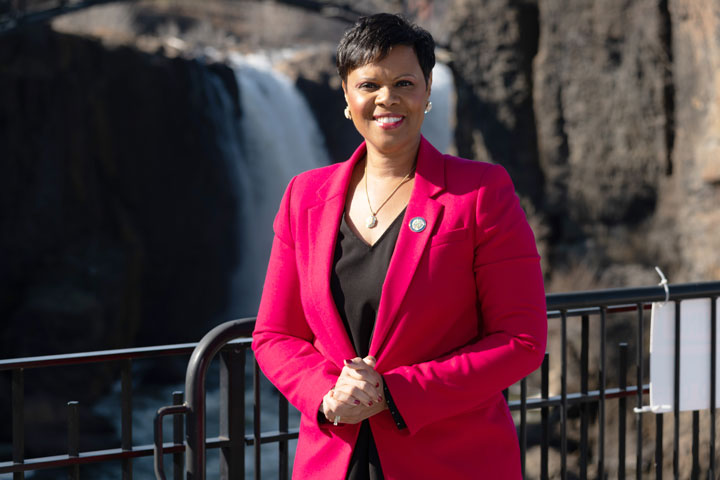 While her city of Paterson mourns the tragic death of Najee Seabrooks—a well-known anti-violence advocate and organizer who died at the hands of police while suffering a mental health crisis—Sumter remains steadfast in prioritizing the voice of her community. "Because of legislation I helped create, whenever there's a loss of life at the hands of law enforcement, it goes directly to the attorney general's office, not the local police department." Additionally, Sumter serves as a proud sponsor of legislation that, when passed, will invest in crisis response teams and seek to reduce violent encounters with law enforcement.
When she's not in the State House or serving as the president and CEO of a leading non-profit agency, Children's Aid and Family Services, Assemblywoman Sumter makes time for joy. Be it spending time with her two sons, reading a new book, going to church on Sunday, or spending time with her husband on Friday for date night, she finds ways to nurture the light within and around her.
Jonathan McReynolds' "Grace" is her song for this season. "I deal with a lot of intense issues and challenges. This song gives me a lot of resolve." Resolve is key to the great work Assemblywoman Sumter has been called to do, and she seeks to inspire that resolve in the next generation of leaders.
As a young woman entering politics in the city of Newark, I personally have been inspired and encouraged by Assemblywoman Sumter. From notes of encouragement on social media to warm conversations at community events, her humility and support have directly impacted my own journey, a spirit that has characterized her work throughout the state of New Jersey. "The people of Paterson, we are real, we are hardworking, and we love hard." For Assemblywoman Sumter, this love bears deep roots, stretching from her mother's faith-filled home to the basement of Canaan Baptist Church, a fierce love Sumter uses to nourish seeds of sisterhood and service across New Jersey today. Celebrating Women's History Month, Assemblywoman Sumter reminds us of the power of women uplifting other women, and using our seats at the table to empower our communities.
---