Musing on how to reinforce in her scholars a true love of reading, an idea entered the brilliant mind of Executive Director and Superintendent of the Roseville Community Charter School Dr. Dionne Ledford —Kings Who Read. Why not celebrate the life and legacy of Dr. Martin Luther King Jr., an avid reader, by having men who are special in her scholars' lives read to them?
That was four years ago, and participation in Kings Who Read keeps growing. Fathers, father-figures, and men from all walks of life eagerly await their turns to demonstrate the importance of reading and solidify for the students that real "kings" READ! Dr. Ledford's musing became a vision and then a reality.
In addition to the kings from the community, RCCS scholars enthusiastically participated. The Student Council presented all "mystery king readers" with name badges and certificates upon arrival, the C.H.E.E.R.leaders greeted every "king reader" with a school cheer, the safety patrol served as escorts to classes, and the peer leaders made sure everyone knew their class assignments.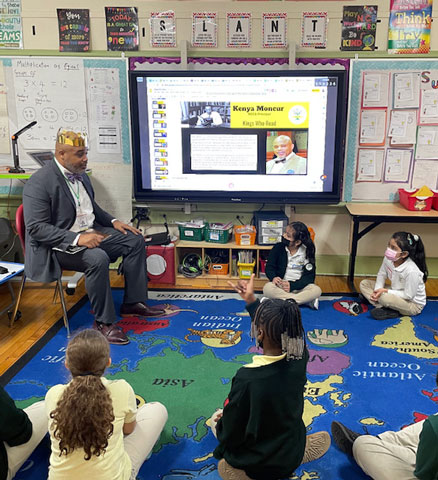 Each mystery king reader received a crown before sitting down to read a book about Dr. King or a favorite childhood book to a class of young scholars. Following their readings, the kings happily answered questions about the book they chose to read and about themselves.
The special kings reading in the program on January 27, 2023 are: Superintendent of Newark Public School Roger Leon, PSEG Senior VP Rick Thigpen, The Positive Community Account Executive Marc Williams, Newark Fire Chief Rufus Jackson, Newark West Ward Councilman Dupre L. Kelly, East Orange Third Ward Councilman Leneus Bergson, NJPCSA President Harry Lee, RCCS Board Members Cesar Vizcairo and Khalil Nassiruddinr, Restore Ministries Foundation CEO Linwood Bagby, and RCCS Principal Kenya Moncur.