Newark's Youngest Police Officer
By Barry Carter
Given a choice, Ezekiel Williams would skip a movie or family cookout to be with the Newark Police Explorers. Ever since he entered Post 2808, the auxiliary program that exposes young people to law enforcement, becoming a police officer fit Williams like a well-pressed uniform. When he joined four years ago, then 15-year-old Williams wanted to be a cop. The Explorers, modeled after the Newark Police Division, was the ticket to his dream job.
"I had this image in my mind as early as I could remember," said Williams, who sees himself as a symbol of hope, much like his hero—Superman. "He's a symbol of hope in terms of wanting to help people and doing the right thing. I'm trying to be that person, that symbol of hope."
The Explorers' leadership saw his dedication. His fellow Explorers did, too. He rose through the ranks with purpose to sergeant, lieutenant, and eventually captain. "He'd rather be in the company of law enforcement officers instead of hanging out," said Newark Detective Robert Moore, who runs the program with Detective Latoya Young-Dunlap. Williams, now 19, became a Newark police officer in January, graduating with 55 recruits at the Cathedral Basilica of the Sacred Heart. "It just felt right," he said. It's the start of new beginnings. It's the start of something amazing." Williams hit the streets last month and Detective Moore says he's the guy standing up for people who can't stand up for themselves.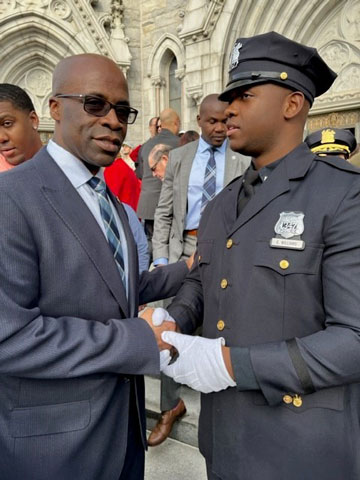 The youngest member of Police Class 131, Williams is already one of the city's most well-known officers. His affable personality leaves an enduring impression. He had no idea that then Lieutenant Colonel Fritz Fragé of the New Jersey State Police would be his boss when they met in 2021 at a Newark Police awards ceremony. Fragé, now Newark Public Safety director, could tell Williams was respected. "Everybody knows him by his first name," Director Fragé said. "He's a kid who really wants to be a cop. That's been his dream for the longest."
During the police graduation, State Senate Majority Leader
Teresa Ruizs in gled him out. Ruiz retold how impressed she was with one class member in particular. "There was a young man there who really took me aback, who is graduating today. He said, 'It's nice to see you, you spoke at my Arts High School graduation.'" Many knew it was Williams, who struck the same memorable chord with city officials, and with local, state, and federal law enforcement officers.
None of these experiences could have happened without the Explorers and his dad, Daniel Williams of Newark, whom Ezekiel admires. A former Marine and New Jersey corrections officer, his father sought out the Explorers when his boy seemed destined for law enforcement. "His demeanor was that of a person in the military," he explained. "He had this upright posture. He would stand like a soldier."
Parental instincts led Williams to the Explorers,which is more than an organization developing leaders. It's a family. Moore is Williams' godfather and Young-Dunlap is his godmother. Together they polished his potential. "He has this drive to want more, to do more," Young-Dunlap said. "There's nothing that this kid can't do."
Last year, he was selected to march with the U.S. Army at the Tomb of the Unknown Soldier at Arlington National Cemetery in Virginia. Williams will study diplomacy and international relations at Seton Hall University this fall and continue pilot training with the Eagle Flight Squadron of East Orange. As for the Explorers, Williams continues to serve as an advisor and big brother to the newest members who look up to him.
"He makes sure we're good, " said Monica Brodie, 15. "If I need something, I know I can go to him.'' That's Williams— accountable and thoughtful—character traits he'll bring to the job. His path to this point, however, gives him time to reflect. Graduation pictures captured his achievement. Residents in the 2nd Precinct will get to know his smile, as big as his heart.
"It's been a journey and a ride that I want to keep riding," Williams declared. "I'm just getting started." Barry Carter serves as a public information officer at the Newark Department of Public Safety.