RWJBarnabas Health's The Bristol-Myers Squibb Children's Hospital Earns National Rankings as a Best Children's Hospital by U.S. News & World Report for 2023-2024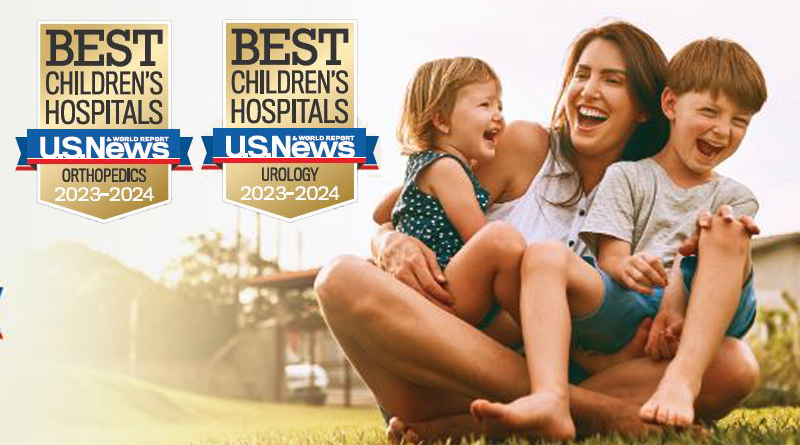 RWJBarnabas Health children's hospitals were named among the nation's Best Children's Hospitals for 2023 – 2024 by U.S. News & World Report. The Bristol-Myers Squibb Children's Hospital (BMSCH) at Robert Wood Johnson University Hospital ranked #34 nationally for orthopedics and ranked #47 for urology. The Urology ranking recognizes a four-hospital practice that is based at The Bristol-Myers Squibb Children's Hospital but that also provides care at three other RWJBarnabas Health hospitals — with Children's Hospital of New Jersey at Newark Beth Israel Medical Center, McMullen Children's Center at Cooperman Barnabas Medical Center, and Unterberg Children's Hospital at Monmouth Medical Center. Additionally, BMSCH was ranked #2 in NJ and #15 in the Mid-Atlantic Region. The rankings assist parents of children with rare or life-threatening illnesses and their doctors in choosing the right hospital for them.
"RWJBarnabas Health strives to provide children and families with exceptional, family-centered pediatric care," said Andy Anderson, MD, Executive Vice President, Chief Medical and Quality Officer at RWJBarnabas Health and Interim Chief Medical and Quality Officer at RWJUH. "Earning these outstanding national recognitions in pediatric orthopedics and urology is the direct result of a shared commitment among our physicians, nurses and staff across our entire Children's Health network to provide families with comprehensive and quality care."
U.S. News, together with RTI International, a North Carolina-based research and consulting firm, collected and analyzed data from 119 children's hospitals and surveyed thousands of pediatric specialists.
"This national honor is the result of the strong partnerships that exist across the RWJBarnabas Health system and Rutgers to advance pediatric care in the region," said Rutgers Robert Wood Johnson Medical School Dean, Amy Murtha, MD. "Through this unique collaboration, our pediatric experts provide children and families with access to advanced research, innovation and technology to address the most complex pediatric medical conditions while increasing access to services that enhance childhood wellness."
As New Jersey's largest academic health system, RWJBarnabas Health, in partnership with Rutgers Health, is the state's most comprehensive children's health network offering an unmatched range of pediatric services, from primary care to specialized treatments and therapies. The system's vast network of child-friendly facilities and pediatric specialists includes four acute care children's hospitals, Children's Specialized Hospital, a national leader in pediatric rehabilitative and long term care, and over 35 community based primary and specialty care locations across the state.
"These rankings are great news for New Jersey families, who can be assured they are receiving the highest quality care for their children close to home," added Bill Faverzani, Senior Vice President, Children's Services at RWJBarnabas Health. "I would like to acknowledge the hard work of the pediatric urology team, led by Dr. Joe Barone, and the pediatric orthopedics team, led by Dr. Andy Bowe, for providing outstanding care and improving the health and well-being of children across our state, as recognized by U.S. News and World Report."
"For 17 years, U.S. News has provided comprehensive information to help parents of sick children and their doctors find the best children's hospital to treat their illness or condition," said Ben Harder, chief of health analysis and managing editor at U.S. News.