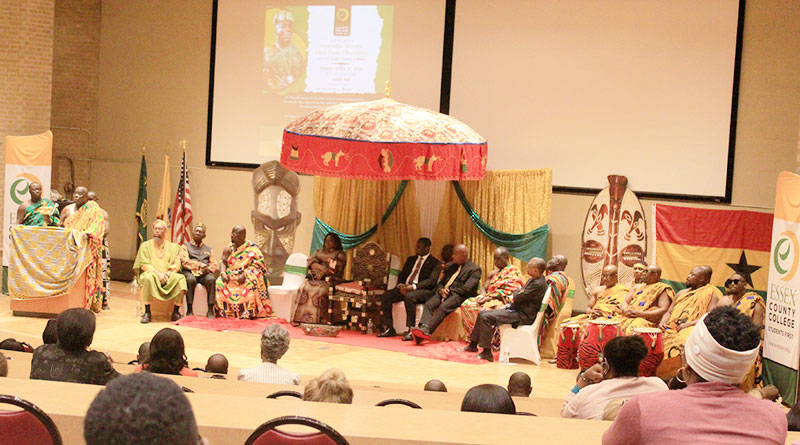 Essex County College Hosts Ghanaian King
His Majesty Osagyefuo Amoatia Ofori Panin, Okyenhene of the Ghanaian Akyem Abuakwa State, left an indelible memory for all who witnessed his awe-inspiring procession and heard his profound words during his visit to Essex County College. The visit seamlessly blended centuries-old traditions with a 21st-century outlook, reflecting the leadership of His Majesty, who ascended the Ofori Panin Stool (throne) in 1999 following his brother's passing.
With royal regalia on full display, the King; his wife, Nana Asabea Ofori-Atta; and his entourage entered the College's main forum accompanied by the sounds of a flute and the steady beat of drums. A member of his entourage held a golden staff adorned with a leopard and the Ofori Panin Stool, which served as a signal for the King's imminent speech.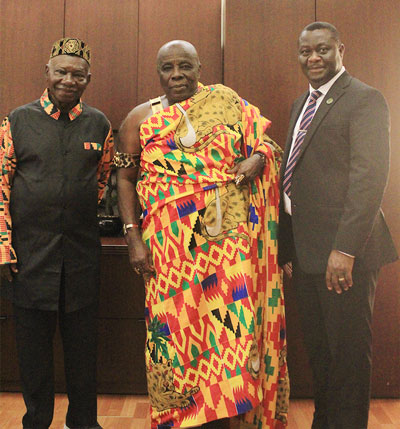 The King spoke to a small gathering in the College's Africana Institute, followed by a public program in Smith Hall. During his address, the 35th royal ruler of Akyem Abuakwa spoke about the history of his country—before, during, and after European colonialism—and what the future holds. A proponent of equal rights and education for all citizens and the protection of natural resources, the King said, "Hope for all will come when we make investments in education. The best use of technology is through the education of all people, but we can't do that if we leave our women behind. Change is not for the faint of heart; we must prepare a better future for our children."
The Akyem royal lineage goes back to the 13th Century. The Rev. DeForest "Buster" Soaries noted that His Majesty broke a royal tradition that allowed rulers multiple wives.
"He has distinguished himself; his wife with him today is his only wife," the former New Jersey Secretary of State said to applause from the audience.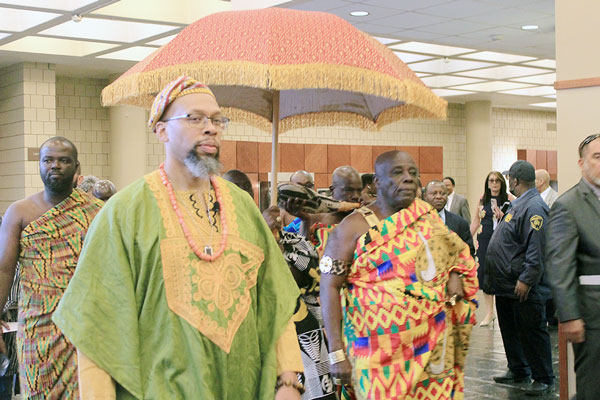 ECC President Dr. Augustine A. Boakye, himself born and raised in Kiamasi, noted students from more than 32 nations—including many from Ghana—attend ECC. "I was very pleased when I learned His Majesty would come to our college during his short visit to the United States. We have a rich history and culture to teach the next generation," said Dr. Boakye. ECC President Emeritus Dr. A. Zachary Yamba, also a Ghanaian, took part in the program as well. Dr. Akil Khalfani, director of the College's Africana Institute and Sociology professor, coordinated the event. "We think the distances between our countries are so great. But the land never ceases beneath the ocean, so we are always connected. We have to understand our long histories for us to continue to exist."
Other guests included Newark Mayor Ras Baraka, Newark Deputy Mayor Ligia DeFreitas, and former Akyem Association of New Jersey President Richard Antwi Bosiako. At the conclusion of the ceremony, during the traditional exchange of gifts, His Majesty received an ECC gift basket and a plaque. In turn, ECC received a book on the history of the royal Akyem and a colorful Ghanaian mask symbolizing leadership.