Receiving Her Roses, Making New Music, and Standing Strong in Her Faith
By R.L. Witter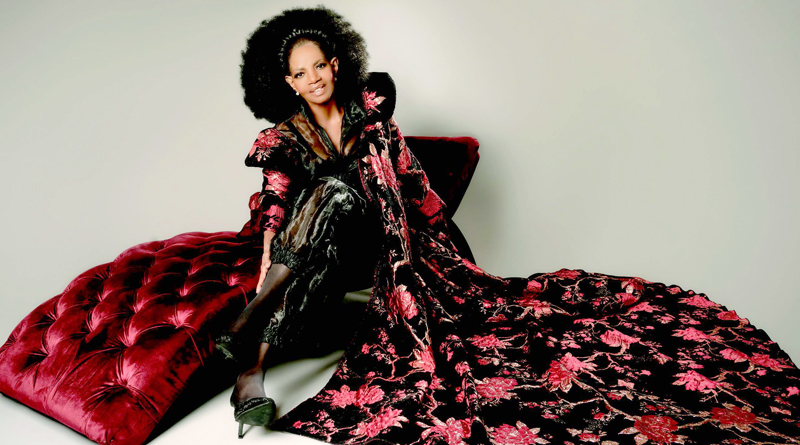 I've heard it said that one should never meet one's heroes. Too often the experience is disappointing and marred by unmet expectations—some heroes don't live up to their name and accomplishments. So, when I found out I was going to interview the legendary entertainer Melba Moore, I had mixed feelings. But I needn't have worried, Melba Moore lives up to and exceeds her reputation and fame.
This is a woman I have adored since I was a tiny tyke. Her beauty gracing album and magazine covers, her five-octave voice of an angel, and her wardrobe! From Broadway to television to film and beyond, Melba Moore has been there, done that, and likely received an award or a nomination for it! Yet she remains humble and grounded. And did I mention she's still gorgeous? My husband confessed Ms. Moore was his first crush. We danced around the house singing, "You stepped into my life and I'm oh so happy!!" All was good.
I finally caught up with Ms. Moore, and I do mean caught up. This woman stays busy! Born in New York City, she's lived most of her life in Brick City and is a familiar face around the community doing whatever she can whenever she is asked. Only days before our interview, she attended a street-naming ceremony across from her alma mater, Newark Arts High School, now called Melba Moore Plaza. "I would say awesome, but it's more than that—because they don't usually name a street after you until you die," she said. "But Councilwoman—well, I know her as Rev. Rountree—she knows me as a citizen of the community and I think they were thinking, 'Let's give her her roses now, so she can smell them.'"
Moore continued, "I think one thing that gives you favor with God is that you try to give back to the community. I think that's what He put us here for, you realize your purpose."
The former teacher was giving back to the community years before she found fame and success. Education is still profoundly important to her, especially when it comes to budget cuts for the arts. "That's been going on for a long time now. So, what has to happen is people like me have to go and get resources and put them where we can. And if it's not going to be in the public schools, we have to provide them somewhere else because arts education is absolutely vital and does so much more than teach you to sing." She continued, "The arts help you to communicate and be aware of things in our ethos, our environment that don't come any other way but through the arts. God made it that way… That's why I'm going to be valuable as a live person, as a community servant to put it back where it can still be put back. I have to be very, very successful and make a lot of money so I can give it away!"
In addition to the street in Newark, Moore's name now appears on Hollywood's Walk of Fame. "It wasn't on my radar; I was busy trying to survive," she chuckled. She credits her manager, Ron Richardson, with getting the ball rolling, making her one of fewer than 3,000 people to have a Walk of Fame star. The Tony® Award winner, has multiple Grammy® nominations, is a R&B Hall of Fame inductee, and has starred in movies like Def by Temptation and The Fighting Temptations (with Beyoncé Knowles!).
Moore has several "firsts" to her name as well. She was the first African American actress to replace a white actress when she took over Diane Keaton's role in the original Broadway production of Hair; she was the first African American woman to win a Tony as a featured actress for her performance in Purlie; and she was the first female artist to perform a non operatic solo concert at New York's Metropolitan Opera (and yes, she can sing opera, too).
Moore starred in the musical version of Purlie Victorious in 1970 and in her auntie/teacher way explained to me that it was originally a play written by Ossie Davis, who starred in it on Broadway with his wife, Ruby Dee in 1961. "To me that's important," she said, "Ossie Davis wrote it because there wasn't anything else. Fortunately, there was somebody like Phil Rose who produced it, and opened the way for many people like Sidney Poitier and myself to come to Broadway and made a way for Black people to participate on Broadway because it was so racist and closed."
Still wearing her auntie/teacher hat, Ms. Moore spoke of her 1990 rendition of the Negro National Anthem, how she came to record the iconic video that featured some of the biggest stars of the late 1980s and early 1990s, and its importance. "Every nation has an anthem and ours—for our nation within a nation—is 'Lift Every Voice and Sing.' But being a New Yorker who didn't know my Black history, I didn't know that," she confessed. After seeing civil rights legend Dorothy Height on television, Moore wanted to meet her. The meeting led to travels with Ms. Height, who asked her to sing "Lift Every Voice and Sing" at an event.
Moore got permission from the NAACP to record the song, wanting to make sure other Black people knew the song. She didn't want it to be seen as simply Melba Moore's "hit record," so she enlisted Lou Gossett Jr., Stevie Wonder, Freddie Jackson, Dionne Warwick, and a host of other Black performers to create the iconic rendition and video. Immersed in Black history, and the civil rights movement, Moore is well aware of how far we've come and how much further we still have to go. "I'm very, very grateful that I was in a position to help make it officially into the Congressional Record as our official national anthem," she said proudly. "I helped do that!"
Despite decades of success and acclaim, Moore remains humble, crediting her faith, "Apparently, I've been on God's good side in some kind of way, something good's happening and you are responsible for partnering with God to keep it happening. It's not an accident, nor a coincidence; the things you've sewn are coming back to you. Some of them are such a surprise and so good, you can't take credit for them—you may cut them off if you do," she said. "It's just an incredible, wonderful time if you're in the right place. You want to make sure that you are by showing others how to be in the right place—not necessarily by advising them or telling them what to do, but show them how good it is if you do good!"
Identifying as a born-again Catholic, Moore takes her faith seriously. She attends church, confesses, and takes communion daily, but never passes on an opportunity to perform at churches of any denomination. With new music and other projects on the horizon, her life is full. She is grateful for her family and the opportunities she has to spread joy and goodness into the lives of others. "My real job is being a good Christian, and I really do this as a job," she said as we ended our time together. "I think He gives me these other perks and then you see how His intention is for you to light each other up."