The Mount Sinai Robert F. Smith Mobile Prostate Screening Unit
By Jean Nash Wells
As men age, the cells in the prostate gland can become cancerous. Every year in the United States, more than 30,000 men die from prostate cancer, second only to skin cancer. About one in eight men in America will develop the condition at some point in their lives, and about one in 40 will die from it. Age is the greatest risk factor for prostate cancer. While only one in 10,000 men under age 40 will be diagnosed, that number leaps to one in 14 for those ages 60 to 69. About 60 percent of all prostate cancers are diagnosed in men over the age of 65, and 97 percent occur in men 50 years of age and older.
All of these facts are reasons for concern, but Black men must be particularly vigilant. Black men have a 70 percent higher rate of developing high-risk prostate cancer, and are more than twice as likely to die from it. Prostate cancer usually has no noticeable symptoms. The first sign of disease is often found during a routine screening exam. This is why screening is important.
But there is good news; with early detection, prostate cancer can be treated successfully and thanks to billionaire businessman and philanthropist Robert F. Smith, the lives of more Black men in New York City can be saved. The Mount Sinai Robert F. Smith Mobile Prostate Cancer Screening Unit, a state-of-the-art mobile facility equipped with advanced scanning and trained staff, enables early detection of prostate cancer for at-risk Black men. The mobile unit made possible by a generous donation from Smith, brings imaging equipment and specialized staff directly to the communities that need them most.
The mobile unit began as a vision of Mt. Sinai's Dr. Ash Tewari, director of the Center of Excellence for Prostate Cancer. Tewari wrote about his research and experience with patients to billionaire Robert F. Smith, entrepreneur (Vista Equity Partners) and philanthropist (Fund II Foundation). You may recall Smith personally paid the student debt of the entire Morehouse graduating class of 2019.

Tewari explained. "My intent has always been to make a dent in the prostate cancer mortality in Black Men. I knew Robert Smith was equally passionate about health of the Black community and knew he would understand the importance of this effort. Thankfully, he said yes. I received an immediate response from him. We are very grateful for his support and partnership because we know this effort will save lives."
Smith told us his reasons for the Yes. "Prostate cancer is particularly personal to me. I have lost multiple family members from both my mother and my father's side to this disease, and have had even more friends and family battle and survive this disease. For those who have survived, early detection was the crucial component. That reminder has served as the inspiration and motivation behind these efforts."
He continued: This bus and the resources it will bring to the community are an extension of the groundwork we have been laying with the Prostate Cancer Foundation for years now to advance prostate cancer research specifically related to African American men and close the massive racial gap that exists in prostate cancer diagnosis and treatment. Together, these initiatives will pave the way for more men to get tested and limit their odds of developing highrisk prostate cancer."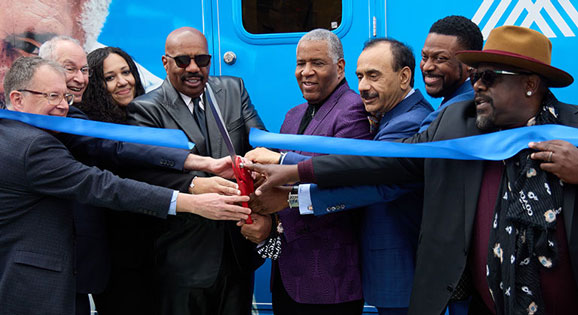 Reaching an At-Risk Population
Tewari and Smith are committed to preventing prostate cancer and lowering prostate cancer deaths by 25 percent among Black males in the areas immediately surrounding The Mount Sinai Hospital. The Mount Sinai Robert F. Smith Mobile Prostate Cancer Screening Unit takes diagnostic teams and tools directly to neighborhoods—Central, Eastern, and West Harlem; the Upper East Side; and Queens. In these areas, Mount Sinai experts expect that more than 13 percent of Black men between the ages 45 to 79 will have prostate cancer, and more than 1 percent of them die. Through the hard work and beneficence of two men, the potential ls that the lives of nearly 1,000 fathers, grandfathers, brothers, uncles, husbands, and sons may be saved by routine screenings.
That's positive change.