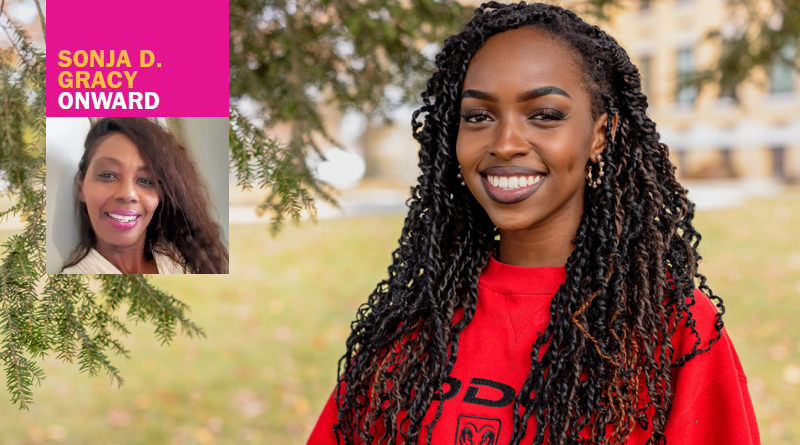 Sonja D. Gracy, author, playwright, and NYC public school teacher is currently working on her next book, God and the Girls.
Fall, particularly September, triggers fond memories that transport me back to my college days. I enjoy watching students and their families carry overloaded luggage into dorms. I gawk as I pass by, and tingle with excitement for these brand, spanking new young adults and the incredible, independent sojourns awaiting them. A feeling of new beginnings fills the air as the young birds leave their parents and take off on their own. It's like they're entering a different world.
At the onset of my own exciting, collegiate journey, A Different World, the hit HBCU-based TV show, paralleled my own new experiences. A Different World, chronicled the lives of beautiful Black students at fictitious Hillman College. The essential joys of academic, social, and emotional experiences that unfolded on the program mirrored mine and those of my Black peers at Temple University. I still have an affinity for that syndicated show.
Our college experiences were the cocoons of our young adult beginnings that burst us out onto the adult scene of what we successively and successfully segued into. We charted our campus greens much like feeble, young fawns on spindly legs, sponging our environs and classroom and life teachings (both sweet and bitter) to eventually stride towards fuller maturity, self-discovery, and success on strengthened hind feet. The formative experiences in those special learning spaces helped shape us into who we have become.
I can trace the silhouette of my becoming in a narrative thread with comedy, melodrama, musing, a bit of mayhem, and a lot of the sublime. I still remember my daring dotting across Temple University's eclectic and teeming North Philadelphia campus. A B-12 vitamin-popping, coffee-guzzling, full-time student, I juggled two part-time jobs, rent, internships, and a new, independent life rife with the vicissitudes and challenges we all encounter, whether we're 18 or 80.
It was in the midst of that reality that I learned to love and value God. Life unfurls circumstances that require us to make choices, mend mistakes, face consequences, muster resilience, make apologies, build, break, bustle, hustle, win, fail, flounder, and sail. I deem myself fortunate to have perceived even way back then, that my venturing out into this big wide world on my own necessitated my dependence on the vigilance of my Loving Savior, Jesus Christ. My decision to firmly clasp my tiny hand in His as I stepped into what felt like a whole, new, wide world, is the best move I've ever made striking out on my own.
I often recollect the good ribbing my sister gave me after my college graduation years ago. She observed me sitting in the rafters still as a church mouse, as hundreds of my cap and gowned peers bustled past me in a human wave. The sight was actually hilarious. Waves of human bodies careened toward me—and then shot over me. I missed it—but I did so purposely, as I ran my fingers across the index sections of the grey-leather biblically- themed promise book my parents gave me for graduation. I may have looked like a bit of a prude to some, like a middle-aged woman sitting at a bus stop not willing to fool with young folk. But I figured it was better to be prudent, no thoughtful, nope—prayerful is the word. Commencement marked another new beginning in my young adult sojourn. Another whole new world awaited me and there I was cataloging God's promises to usher me into it. Better to get The One Who made it, to help us sojourn through it.