Lakeland Bank Partners with Small Business Pro University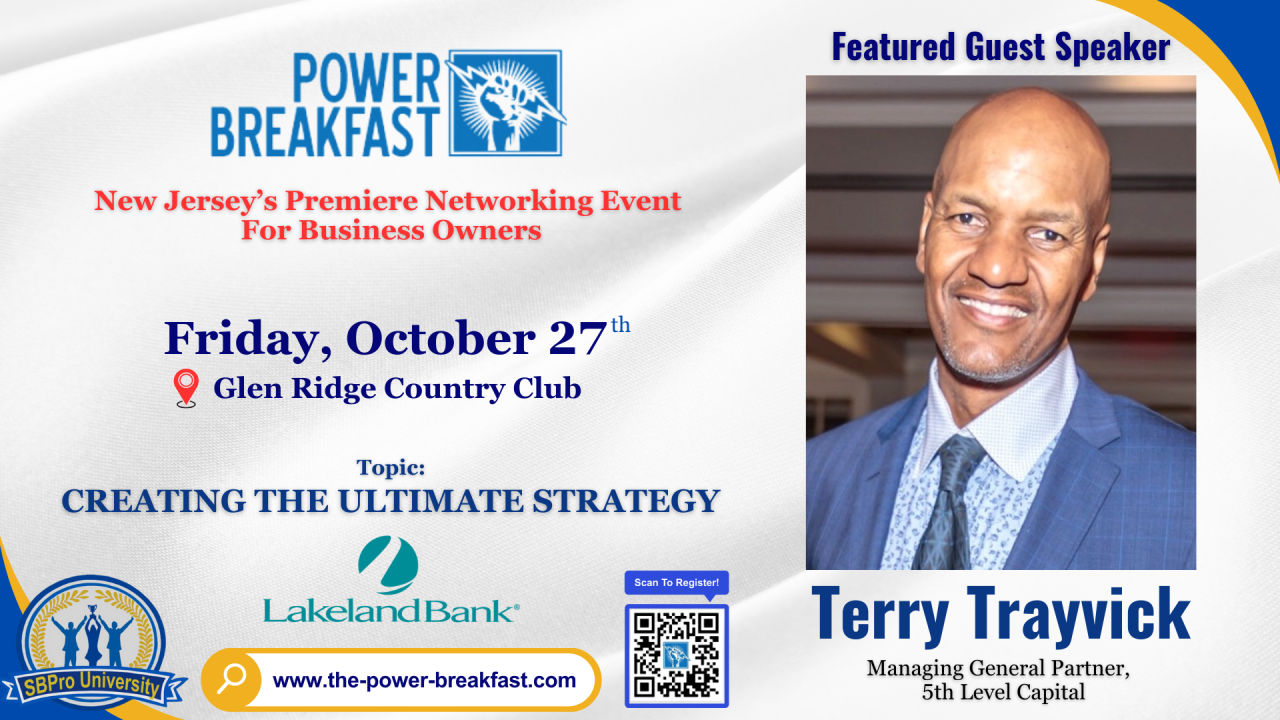 Lakeland Bank has announced that it will serve as the Title Sponsor for the 30th POWER BREAKFAST Event on October 27th at the Glen Ridge Country Club. Andrew Frazier, Founder of Small Business Pro University, and producer of POWER BREAKFAST events for 10+ years is pleased to partner with Lakeland Bank on this event for entrepreneurs, business owners, and organizational leaders.
The POWER BREAKFAST is known for "Supercharging the Day" of participants in this unique forum for learning best practices, enjoying great networking, and gaining useful knowledge.
The October 27th event will feature a keynote presentation by Terry Trayvick, Managing General Partner of 5th Level Capital on the topic "Creating the Ultimate Business Strategy." Afterward, Andrew Frazier will facilitate a panel on "How to Finance Your Business Faster and Easier."
"We are looking forward to providing guidance and support to small business owners and entrepreneurs at the 30th POWER BREAKFAST in Glenn Ridge! Working with Andrew and the Small Business Pro team has been wonderful, and we are excited about sponsoring this event. Providing learning/networking opportunities is critical to our mission to connect with and build up the communities we serve, and we are looking forward to it" shared Daniel G. Leary, Senior Vice President, Business Banking Manager, Lakeland Bank.
"It has been a great pleasure over the years to see how attendees have grown revenue and obtained financing as a direct result of these POWER BREAKFAST events," remarked Mr. Frazier.
As a platform for ongoing interaction, Mr. Frazier recently launched The Small Business Pro Network online community. According to Mr. Frazier, "It will be the Ultimate Business Ecosystem for Entrepreneurs where they can go to continually Learn, Profit, and Grow."
Andrew Frazier, MBA, CFA, Founder of Small Business Pro University is an expert business coach, consultant, & trainer. He has worked 1-on-1 with 1,000+ business owners and taught tens of thousands of people about business. He empowers them to grow revenue, increase profit, and obtain financing by working ON their business rather than working IN their business. He has written 3 business books, The Masterpreneur Playbook is his most recent. Andrew's broad range of diverse experiences includes serving as a Navy Officer, Corporate Executive, Non-Profit Leader, Real Estate Investor, Adjunct Professor, and Serial Entrepreneur. He is an MIT engineering grad and earned his MBA from NYU. Visit: www.SBProU.com Learn more about the October 27th POWER BREAKFAST event and register at www.The-POWER-BREAKFAST.com
About Lakeland Bank
Lakeland Bank is the wholly owned subsidiary of Lakeland Bancorp, Inc. (NASDAQ:LBAI), which has over $10 billion in total assets. With an extensive branch network and commercial lending centers throughout New Jersey and Highland Mills, N.Y., the Bank has been offering business and retail banking products and services for over 50 years. Business services include commercial loans and lines of credit, commercial real estate loans, loans for healthcare services, asset-based lending, equipment financing, small business loans and lines, and cash management services. Consumer services include online and mobile banking, home equity loans and lines, mortgage options and wealth management solutions. Lakeland is proud to be recognized as a Best-In-State Bank by Forbes and Statista for the fifth consecutive year, named a Best Bank to Work For by American Banker and Best Companies Group, rated a 5-Star Bank by Bauer Financial and named one of New Jersey's 50 Fastest Growing Companies by NJBIZ. Visit www.LakelandBank.com for more information.