Ellis By Glenda Cadogan CUNY's Murphy Institute: At the Crossroads of Labor and Community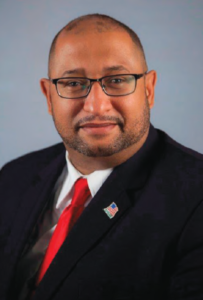 BY HENRY A. GARRIDO
Henry A. Garrido is the executive director of District Council
37, AFCME – the first Dominican to hold this position. District
37 is the largest public sector union in New York City and
represents over 125,000 workers. He is also an international
vice president of the Union's affiliate, ASCME, and a member
of the Murphy Institute's Advisory Board
There is a hidden gem of higher education opportunity
in mid-Manhattan called the Murphy
Institute for Worker Education. The Institute,
part of the City University of New York, is dedicated to
preparing the next generation of labor and community
leaders, while simultaneously expanding opportunities
for working adults in a wide range of fields throughout
the CUNY system and in all five boroughs.
The Institute has its roots in a small program
established in 1984 at Queens College as the brainchild
of three unions: Local 1180 of the Communications
Workers of America, District Council 37-AFSCME,
and the Amalgamated Clothing and Textile Workers
Union. These unions shared a vision of empowerment
through education—not only for their own members,
but for adult workers more broadly and for the
future of the labor movement as a whole. Most of the
original 52 students were municipal employees and
women of color.
It was rough going at times. In 1995, the program
nearly shut down when it lost its state funding. But with
the support of labor and community leaders, it battled
its way back, eventually becoming a CUNY-wide Institute
and moving its headquarters to its current 43rd
street facility. Over three decades, it established undergraduate
and graduate degree programs in Labor Studies
and Urban Studies; developed certificate programs
in Labor Relations, Community Leadership, Public
Policy and Administration; expanded its workforce
development programs; created a resource center for
public programming and research; and maintained
publication of the national journal, New Labor Forum. It
also extended its labor base to include 23 unions, currently
represented on its Advisory Board. TWU Local
100 Political Director Marvin Holland is a longtime
member of the Board and has watched the Institute
grow. "Murphy has given so many union members a
head start when it comes to job promotions," he says.
"And, personally, I've learned a lot from participating
in Murphy programs."
Over time, the Institute has attracted a faculty of
distinguished scholars and experienced practitioners who
provide students with the analytic and practical skills they
need to advance professionally. A combination of intellectual
rigor, academic support, and experiential learning
is the hallmark of Murphy Institute degree and certificate
programs. It has its equivalent in the Institute's workforce
development program as well, where job-specific skills are
taught in the context of literacy development.
As its programs develop, the Institute keeps an eye on
the big picture. It has always embraced the idea of social
and political engagement, setting its sights on preparing
students for leadership in labor and community organizations
as well as in government institutions. To ensure
diversity in leadership, the Murphy Institute, supported
by a matching grant from CUNY, has raised $1 million
over the past five years to provide women and students of
color with scholarships of $20,000 to $30,000 each.
There are some big changes ahead for the Institute.
In fall 2017, it will launch a new Community Semester
internship program, providing college students and
recent graduates with full-time paid internships at community
organizations. Community Semester is a welcome
parallel to the Institute's Union Semester program, which
has placed students at unions for more than 15 years. This
turn toward community has been evolving over the last
several years. It will become official in fall 2017, when the
Institute expands its Advisory Board to include leaders of
several major community organizations.
The most dramatic change lies ahead. The Murphy
Institute is scheduled to open its doors as the new CUNY
School of Labor and Urban Studies in the fall of 2018.
"The new School" says Holland, "is a milestone in a long
struggle to recognize the importance of Labor, Urban,
and Community studies and to expand higher education
opportunities for poor and working-class communities."
For more information about the Murphy Institute go to:
https://sps.cuny.edu/academics/jsmi