Visit the Holiday Window Displays in New York City
Don't Miss Out on the Beautiful Holiday Displays Around New York City
It goes without question that no one can do Christmas quite like New York City. The picturesque windows for Manhattan's flagship department stores will have you stopping in your footsteps—even the most hardened of New Yorkers must pause to gawk, then grumble on about tourists.
Window shopping is an amazing experience just after Thanksgiving when Manhattan's biggest department stores reveal their holiday window displays. Checking out some holiday windows is a must-do during your holiday season visit to New York City.
The windows displays are almost always on view shortly before Thanksgiving and remain up until just after the New Year, so they can be experienced by visitors throughout the holiday season. Most stores host a special event to mark the unveiling of the year's designs and in recent years there has been a greater amount of commercial support for the windows, with merchandise, books, and souvenirs available for sale at the stores and reflecting the year's theme.
Bergdorf Goodman Windows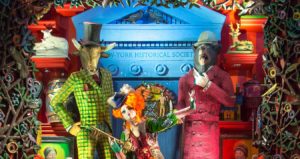 The holiday window displays at Bergdorf Goodman are typically unveiled in mid-November and reflect the sophisticated signature design of Bergdorf Goodman. These windows feature not only high-end fashion but also authentic antiques. Each window is a work of art and should be required viewing on any holiday windows walking tour.
The theme during the 2017 season is "To New York With Love" and was revealed November 14.
---
Lord & Taylor Holiday Window Displays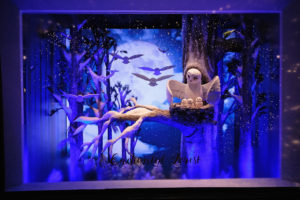 Every year Lord & Taylor features classic holiday window displays along Fifth Avenue. Lord & Taylor window displays are typically unveiled in late November, featuring imagery and mechanical movements that make them both traditional and very enjoyable for families.The windows were displayed on November 9 for the 2017 season with the theme "The Best and the Brightest." 2017 marks the 80th year ​of the Lord & Taylor holiday windows.
---
Barneys New York Windows
If you're shopping on Madison Avenue, Barneys New York's holiday windows are a must-see. Every year they are hip and stylish, with a nice dose of humor. In recent years there have been performances and other living elements to these window displays. Call ahead to find out when the best times are to see the displays—usually, they are best experienced after it gets dark which is pretty easy during the winter in New York City since the sunsets around 5 p.m.
In 2017, the windows are less about the holidays and more about social messages including "Snake Love Not War," "Cactus What You Preach," and "Bee Yourself."
---
Bloomingdale's Windows
Bloomingdale's holiday window displays are playful and family-friendly. They are typically unveiled in late November just before Black Friday so they can be enjoyed by holiday shoppers throughout the season. Although the window displays along Third Avenue are also decked out for the holiday, the ones along Lexington Avenue are the ones you really want to see, as they feature the annual theme. Lately, they have included interactive elements, so make sure your smartphone is charged to fully enjoy the experience. Also, Bloomingdale's has some of the best Salvation Army Bell Ringers in the city, so be sure to stop and enjoy their performance as well.
For the 2017 season, the windows were planned for their big reveal on November 21. This year's theme is the holiday movie, "The Greatest Showman," from Twentieth Century Fox.
---
Macy's Windows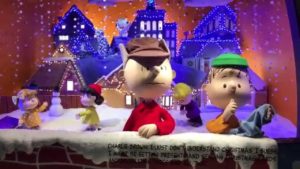 Macy's holiday window decorations typically make their appearance in early November. Each year Macy's has windows depicting scenes from Miracle on 34th Street (in recent years they have shifted to "Yes Virginia," the animated movie based on the same story) and a second set of windows with a changing holiday theme. These are perhaps New York City's most famous holiday window displays and are always on view in time for visitors in town for Thanksgiving.
For the 2017 season, the windows were revealed at the beginning of November with the theme, "Reasons to Believe."
---
Saks Fifth Avenue Holiday Windows
The Saks Fifth Avenue holiday window displays are unveiled in late November and are a great choice for visitors with children, because they are often designed around a seasonal book for children, and feature playful animations. Saks Fifth Avenue's windows are also conveniently located across from the Rockefeller Centerpromenade, so if you are in town for the tree lighting at Rockefeller Center, stop by the windows at Saks, too. Saks usually features a quite impressive lighting show on the facade of the building that visitors can enjoy throughout the evening.
The holiday windows are planned for their big unveiling on November 20 for the 2017 season. This year, Saks is teaming up with Disney for a "Snow White and the Seven Dwarfs" theme to celebrate the 80th anniversary of the film.