Janet Cox's Road from Aspiring Chef to Administrative Chief
As a whip-smart 16-year-old at SUNY/Stony Brook, Janet Cox never thought of a career at the Port Authority. Not long after earning an undergraduate degree in Social Work, Cox trained to be a chef, operating a small catering business before deciding to pursue a Master's degree in Public Administration.
Cox did not have "Chief of Staff to the Executive Director of the Port Authority" on her bucket list of professional aspirations at that time. But after 35 years at the agency in key management positions, she's become the right hand to Executive Director Rick Cotton. "Coming to the agency as a social worker, this was not a career I could have ever imagined for myself. But the Port Authority afforded me many opportunities to learn and expand my career," Cox said. "When I started here, there were no long-tenured Black women in front of me. However, I am fortunate because of a diverse group of influential colleagues who embraced and supported me throughout my career."
Cox started her Port Authority journey in the Management Training Program — predecessor of the current Leadership Fellows Program – and rotated through a variety of departments and positions, including a stint in the Executive Director's Office. Prior to becoming chief of staff, she headed up the Management and Budget Office for five years. Her outstanding work on the 2021 Operating, Capital, and Debt Service budget was critical to the continuation of major capital construction projects and prioritizing the safety and security of agency facilities during the pandemic.
Her career launched in departments that would be unrecognizable to Port Authority entrants today. She held managerial positions in the now-defunct XPORT Trading Company and the World Trade Institute that were focused on international business opportunities. Once a year she traveled to Asia to see buyers, sometimes working out of the Port Authority's Tokyo office. She was there when the office received its first fax machine.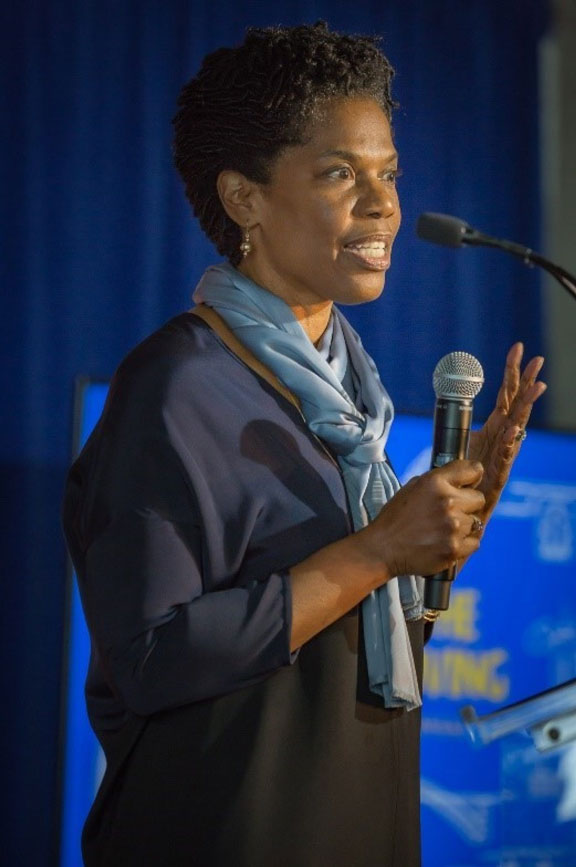 Cox also helped establish important processes and projects to guide the Port Authority in achieving its mission. During her role in what is now the Technology Department, she led training for the agency's first online payment system and employee portals. Later, as General Manager of Ferry Transportation, she oversaw construction of the Battery Park City Terminal and the rehabilitation of the historic Hoboken Ferry Terminal, post-9/11.
She credits communication and listening skills learned from her social work training with helping advance her Port Authority career. During a key meeting following Superstorm Sandy to discuss closure of the World Trade Center PATH tubes on the weekends, Cox was asked if ferries could supplement service to customers while the tunnels were undergoing repairs. She replied that they could and outlined how it could be facilitated. She was responding to the needs of the traveling public; to her colleagues, she would later learn, she was being an effective leader and efficiently getting the job done.