All Hail Regina "The Queen" Fleming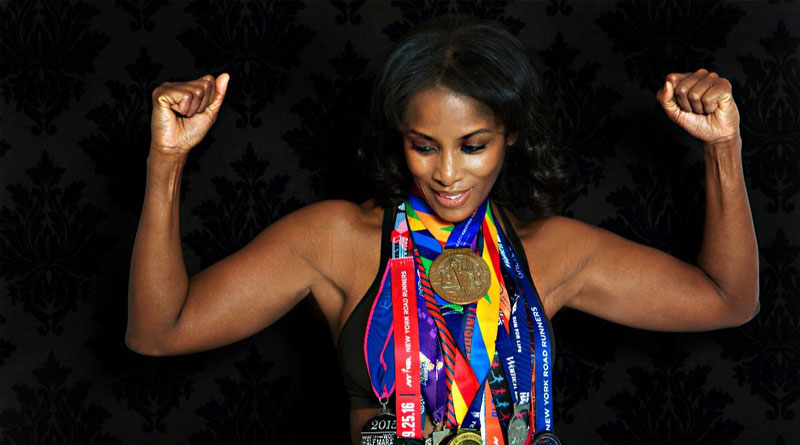 The Awe-Inspiring Accidental Runner Who Runs Through Harlem and Around the World
By R.L. Witter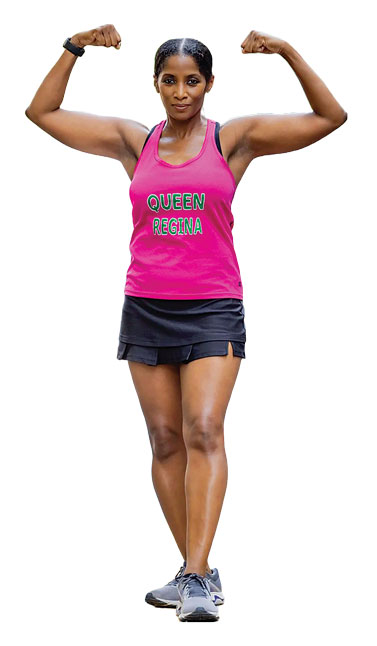 When we last met with Regina Fleming, photographer extraordinaire, she was discussing her involvement with her beloved sorority, Alpha Kappa Alpha, Inc. (AKA) She reminisced on seeing distinguished, elegant women at her church as a young lady and deciding then and there her mission was to become one of those women. Having accomplished that mission and dedicated more than 30 years to the organization, Fleming recently set out on a new mission that would literally change her life, take her around the world, and inspire other women. "I've always worked out," Fleming explained from her Harlem home on a busy Monday morning. She was squeezing in my questions while preparing for two photo shoots—one where she'd be the photographer, and the other where she'd serve as model. Back in her full-time modeling days she was a regular on the fitness model circuit. But after signing up for what she thought was a simple fun run with a friend, she discovered she had committed to running a half marathon. "I didn't even know what a half marathon was!" she exclaimed. "I looked it up and it said '13.1 miles.' Thirteen isn't a big number to me; if someone gives me $13 it's not a lot of money. But I didn't even know how far a mile was—20 city blocks!" After consulting her nephew, who was a college track star at the time, she realized she had to get running shoes and begin training for the race. Oh, and the race was only 10 days away.
Fleming had friends and sorority sisters there to cheer her on, and it worked. Having never run before, having only trained for 10 days, she finished that half marathon in just over two hours. Feeling exhausted and accomplished, the fashionista was ready to take her leave when someone informed her she needed to go collect her medal. "Medal" was seemingly the magic word. "Once they put that medal around my neck that was it—that was all she wrote," Fleming recalled with a chuckle. The jewelry aficionado was more than happy to do that first, shiny piece of hardware and at that moment, a runner was born. She decided she'd run the New York City Marathon that day, which she did later that year. Did I mention she was almost fifty? Her looks and attitude most certainly belie her age. And when told that 50 is old she'll respond, "Fifty might not be the new thirty, but the new fifty sure ain't your grandmother's fifty!"
"My mantra is 'How you do one thing is how you do everything,' she explained. "To run the way I do requires a lot of dedication, commitment, resilience, and belief in yourself. It reveals so much about who you are and you can apply that to everything in life. It's the same with business and everything else—just when you think you can't take another step, you take that step. You're not going to give up in the middle of a race, so that goes for everything in life. Running helps you go further."
The medals are a big part of why Fleming runs, but she also recognizes not only the physical, but the mental and emotional benefits of running. "It clears my mind," she said. "I've written books in my mind while running, solved problems, listened to podcasts, and listened to the sounds of the world. For some, it takes away anxiety; and for others, running lets you appreciate nature and your surroundings." She has experienced the humor of running through Paris as the locals do their best to ignore the runners, as well as running in another European city where to her utter surprise, she ended up in an Olympic stadium.
Fleming has not only run a staggering number of races (14 in-person marathons, one virtual marathon, 30+ half marathons, and more than 60 other races), she has completed every, single one she has entered— regardless of illness or injury. In only a few years, she has achieved a feat most will never execute and those who do, often require considerably more time. After completing marathons in Boston, Chicago, New York, Berlin, London, and Tokyo, in March 2023, Regina the Queen held her own coronation when she became an Abbott World Marathon Majors Six Star Finisher. "I would have finished all six races within eight months in 2020 had everything gone to plan," she recalled. "But we all know what happened in 2020." The delay due to the COVID-19 pandemic may have actually been a blessing in disguise. The 2023 Tokyo race had a record number of Six Star Finishers and now, they are all Guinness World Record holders. There are roughly 11,000 people who have achieved this status and most of them are men. "I saw that medal and I knew I had to become a Six Star Finisher," she recalled. "It's quite a piece of jewelry."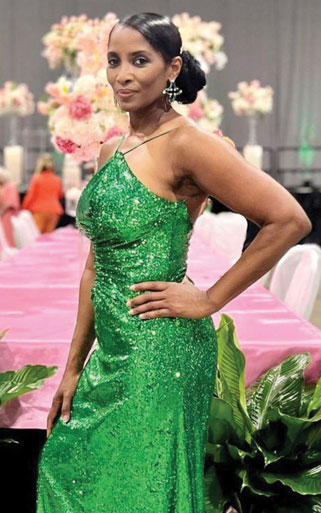 The medals aren't the only reason Regina Fleming stands out in the running community. "There's a lack of diversity in marathon running," she explained. "Often, I'm one of only two, four, or eight African Americans in the race. I want to inspire others, especially other Black women to run these marathons." As if she didn't already stand out from the rest of the crowd, Fleming runs under the name "Regina the Queen" and regularly wears a crown atop her running outfits, which often include something pink.
Questions began to pour in from neighborhood locals and social media followers alike. How can they look and feel as good as she does? Are they healthy enough to start running? What should they do to train? In order to accurately answer questions and properly turn her perspiration into inspiration, Fleming holds certifications as an RRCA (Road Runners Club of America) running coach, a personal and group trainer, a behavioral specialist, and in women's fitness.
Whether for her career as a sought-after professional photographer, to meet up with her sorority sisters, or to run a race, she's always jet-setting and globetrotting. Having completed her Six Star Finisher, what's next for Regina, the Queen in her running life? "That's up for grabs with my family and friends," she laughed. "It might be running all 50 states, or maybe all seven continents. They get to decide. I've already run North America, Europe, and Asia and I'm on a waiting list for Antarctica. So that just leaves Africa, Australia, and South America." Just as her mission was to become an AKA years ago, now it's inspiring women and helping them live their best fitness lives. With her determination, smile, crown, and pink gear she can mark that as another mission accomplished. Long live the Queen!