With the Aim of Lowering High Rate of Cancer Deaths, a Community Outreach Effort Promotes Positive Lifestyle Changes
A disturbing disparity has become increasingly evident in recent years: that residents of underserved areas suffer a higher incidence of cardiovascular disease and are also diagnosed with cancer—and die of the disease—at disproportionate rates.
"The two go very much hand in hand," says Dr. Erica Phillips, the Jack Fishman Associate Professor of Cancer Prevention at Weill Cornell Medicine, "because the behaviors that increase adults' risk for developing heart disease and cancer are actually more the same than they are different— such as excess weight, excess alcohol, physical inactivity, tobacco use, and low fruit and vegetable consumption." In New York City, the first and second causes of death before the age of 65 are cancer and heart disease, respectively.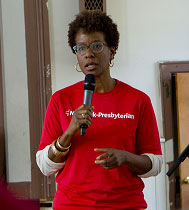 Dr. Phillips and colleagues at the Sandra and Edward Meyer Cancer Center have been working with community groups, faith organizations, and social service agencies in Brooklyn, Queens, and Manhattan to strategize the best way to encourage lifestyle habits that lower the risk of cancer and heart disease.
"What we've generally heard from community groups is that individuals and communities are tired of being told by physicians and the healthcare system, 'Don't do this, don't do that, or this bad thing is going happen,' rather than truly talking about wellness and how to live healthier within your environment," says Dr. Phillips, who is also associate director of community outreach and engagement at the Sandra and Edward Meyer CancerCenter at Weill Cornell Medicine and the Cornell Center for Health Equity, and herself a Brooklyn native.
For Donna Y., of St. George's Episcopal in Bedford- Stuyvesant, it's no mystery why people salt their food, drink sugary sodas and opt for that side of fries: it all tastes good. But when it comes to encouraging healthier choices, she agrees that a wagging finger is far less effective than solid education about why those dietary habits can have negative consequences, and practical ways to make better choices.
In response to this feedback, Dr. Phillips and her team have established programs to address the communities' unmet needs. In 2021, the Office of Community Outreach and Engagement launched BWELL4LIFE, a curriculum that is taught to peer educators from faith-based organizations (and other community-based organizations) and educates individuals on cardiac health and cancer health. The peer educators are then tasked with teaching this curriculum to their communities. Scriptures from the Bible are interspersed throughout each chapter to connect body and spirit.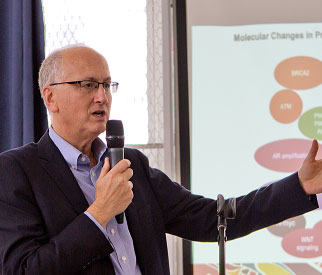 As BWELL4LIFE classes begin to launch this year, the team looks forward to using learnings from HeartSmarts,New York-Presbyterian/Weill Cornell Medical Center's faith-based community education and outreach program, which focuses on cardiac health, to guide their programming. For instance, food insecurity was found to be a significant indicator for participants not finishing the HeartSmarts program. Therefore, BWELL4LIFE participants who screen for food insecurity will be connected to resources made available thanks to a grant from the Cielo Foundation.
Though adopting healthier habits remains one key factor in reducing cancer deaths, getting people screened through routine, age-appropriate testing such as mammograms, colonoscopies and prostate exams is another. Participants of the BWELL4LIFE who are identified as not being up to date on cancer screenings, will be contacted by the Office's outreach navigators to assist with navigating them to care—a service that the Office is pleased to extend to any resident living in Queens, Brooklyn, and areas of Manhattan.