Hampton University: Black History by the Sea
By Fern Gillespie
Nestled along the tranquil banks of the Chesapeake Bay, Hampton University is cherished by students and alumnae as "Our Home by the Sea." Founded in 1868 as Hampton Normal and Agricultural Institute, the fall 2021 enrollment counted 3,313 students including 2,863 undergraduates.
Yesterday and Today
Today, sixth in the rankings of HBCUs in US News & World Report, Hampton offers baccalaureate, master's, doctoral, professional, and associate certificate programs including master's programs in health and physics—90 in all. Hampton University Proton Therapy Institute, dedicated to cancer-fighting technologies and known as one of the largest free-standing facilities of its kind in the world, is one of 16 research centers at the university. Classified as a "R2: Doctoral Universities for high research activity," a branch of the Department of Atmospheric and Space Sciences also resides there.
The most popular Hampton schools are the School of Engineering and Technology, School of Pharmacy, James T. George School of Business, Scripps Howard School of Journalism and Communication, School of Nursing, School of Liberal Arts and Education, School of Science, University College, College of Virginia Beach, and Graduate College. The university offers many ways for students to become involved in the more than 100 student-run organizations, theatrical performances, concerts, and recitals. Student athletes participate at the recreational level and for the Hampton University Pirates varsity teams, which compete in the NCAA Division I Colonial Athletic Association.
In its early beginnings at the onset of the Civil War in 1861, Union Major General Benjamin Butler decreed that any escaping enslaved Black retreating to Hampton could receive some education. Mary Peake, a free person, taught a group of about twenty students under an oak tree. The site of the first southern reading of the Emancipation Proclamation in 1863, the tree became known as the Emancipation Oak. In 1929, Hampton Institute became Hampton College with degrees in agriculture, home economics, education, business, library, music, mathematics, chemistry, and physics.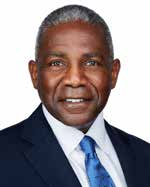 Forward-looking Leadership
Dr. William R. Harvey became president in 1978, and led Hampton for 44 years, retiring in June 2022. During Harvey's time at the helm, endowment rose from $29 million to more than $300 million. He established an MBA program, NASA partnerships, and centers for hightech scientific research. Dr Harvey launched 92 academic degrees and added 29 buildings to the campus. In 1984, he transitioned Hampton from an institute to a university.
Lt. Gen. Darrell K. Williams, U.S. Army, (Ret.) attended Hampton under Dr. Harvey's leadership and succeeds him as president. General Williams, a 1983 graduate, brings over 40 years of proven success in leading complex military and commercial business enterprises as well as nonprofit and academic leadership experience.
Hampton changed Williams' life. He was Mister Freshman 1979; a three-year Reserve Officer Training (ROTC) scholarship cadet; a member of Alpha Phi Alpha Fraternity, Inc.; and Hampton's senior class president. He met his wife, the former Myra Richardson, at Hampton. Married in 1987, they are the first president and first lady to both hold Hampton degrees.
Notable Graduates
"It's a love of Hampton the moment you walk on to the campus," said Hampton alumn, Dr. Dionne Ledford, executive director of the Roseville Community Charter School in Newark, NJ. "Dr. Harvey embedded those traditions into daily life. From day one, the orientation at Hampton for freshman is very special. There's a candlelight ceremony that inducts you into the Hampton family," explained the Hampton graduate and educator. Hers is a Hampton legacy family with her husband and daughters also alumni. "Hampton gives you a sense of belonging," she continued. "You are taught how to maneuver in a world that might not fully understand who you are. Hampton helps you know who you are and that you're going to be strong in your convictions and knowledge."

For over 150 years Hampton has spawned graduateswhose lives add much to the United States and make the world better for everyone—history makers such as Alberta Williams King, the mother of Dr. Martin Luther King Jr.; actress and comedian Wanda Sykes; Percy Sutton, former Manhattan Borough president and chairman of Inner City Broadcasting and the Apollo Theatre; Lois Alexander, founder of the Black Fashion Museum; Oscar-winning Costume Designer Ruther E. Carter; and TV Meteorologist Spencer Christian to name just a few. Rashida Jones, president of MSNBC, a Hampton MassMedia and Arts graduate, is the first Black woman to head a cable news network. This year, she established the Rashida Jones Scholarship Fund at Hampton. "I will always have a special place in my heart for Hampton University," said Jones. "It helped me gain the skills and confidence to dive into the competitive world of journalism and television news. I hope this contribution can help and inspire [students] as they prepare for their next chapter." Hampton alumna have broken barriers in the space race. The NASA headquarters building in Washington is named in honor of Mary W. Jackson, who in 1958 became the first African American female engineer at NASA and was featured in the hit movie, Hidden Figures. More recently, Dr Moogega Cooper, a 2006 graduate, served as Lead Planetary Protection Engineer for Mars 2020.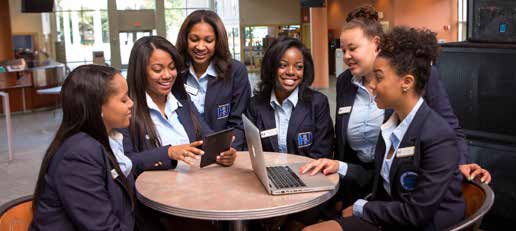 During a recent visit to Hampton to discuss STEM research, Vice President Kamala Harris recognized these NASA pioneers. "Hampton University educated Mary Jackson—NASA's first Black female engineer. It is from Hampton University that we have Dr. Cooper, who is working on the current Mars mission at NASA right now. Today, Hampton is the first and only HBCU to fully control a NASA mission." she continued, "… when we talk about the role of HBCUs on this issue, let's be very clear that HBCUs are not only competing; HBCUs are leading."
Rooted in Excellence
Currently, Hampton holds four NASA-funded satellite mission projects, including the $140 million Aeronomy of Ice in the Mesosphere (AIM) mission, the first NASA mission totally controlled by an HBCU. Since its founding in 1996, Hampton University's Atmospheric and Planetary Sciences (APS) department has been involved in NASA missions. Hampton University scientists are also involved in two future missions to Jupiter and its moons, and a joint mission with South Korea.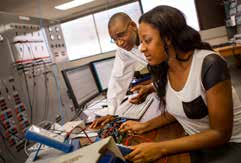 The renowned Hampton University Museum, founded in 1868, is acclaimed as the oldest museum in Virginia and the first African American museum in the U.S. The museum's extensive collection holds over 12,000 artifacts representing diverse art representing Black Americans, Africans, Asians, and Native Americans.
Hampton University remains rooted in the site of the legendary Emancipation Oak. The majestic tree is designated as one of the 10 Great Trees of the World by National Geographic and is a National Historic Landmark. Its trunk now measures 16 feet around with a 100-footwide canopy rising 50 feet above. Like students did over 150 years ago, Hampton scholars gather to study beneath the branches of that mighty oak, a constant symbol of the promise of freedom and education for all, even in the face of adversity.