Prostate Cancer Awareness
Get Screened Now
Prostate cancer is the most common cancer among men (after skin cancer), but it can often be treated successfully. Prostate cancer often has no symptoms until the disease is advanced, and screening may help detect cancer early, when the chances of treatment success are high. But there is no one-size-fits-all approach. In addition to being more likely to be diagnosed with prostate cancer, a new study suggests Black men are more likely to die from low-grade prostate cancer. In fact, for Black men, the risk of dying from low-grade prostate cancer is double that of men of other races, the study has found.
September is Prostate Cancer Awareness Month, so it's a great time to begin taking charge of yourself and get screened for prostate health. In general, screening for prostate cancer should begin around age 45, and even earlier if there is any family history of prostate cancer or other cancers such as ovarian, breast, colon or pancreatic. The following symptoms may be caused by either prostate cancer or a benign (non-cancerous) enlarged prostate.
• Frequent urge to urinate
• Back pain
• Frequent urination at night
• Weak or interrupted urine flow
• Blood in urine and semen
• Inability to urinate/ painful urination/ strain on urination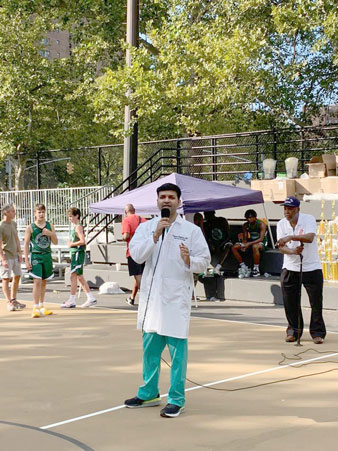 Medical professionals—researchers and doctors are constantly working to find better ways to detect and treat prostate cancer. One such breakthrough is the Mount Sinai Robert F. Smith Mobile Prostate Cancer Screening bus, which brings prostate screening into neighborhoods where residents need it most.
Recently the unit screened 60 men during the Love & Basketball Poetry in Motion spoken word competition at Rucker Park in Harlem. The event was sponsored by HCCI (Harlem Congregations for Community Improvement) and included basketball competitions as well.