Tracey Phillips is grateful that she finally has a place to call home. Once homeless and battling substance abuse, Phillips recently moved into her own apartment in Newark, NJ, thanks to Broadway House for Continuing Care. Reflecting on her two-year stay at the facility, Phillips says, "Broadway House really saved my life. I thank God… and I thank Broadway House."
Located in Newark, Broadway House provides world-class healthcare and rehabilitation to residents with complex needs, including HIV/AIDS, homelessness, addiction, abuse, and other deep social issues. Founded in 1995, Broadway House is New Jersey's only specialized longterm care facility for people living with HIV/AIDS. In addition, Broadway House provides excellent subacute care for people recovering from accidents and a variety of illnesses. It is affiliated with University Hospital, a renowned academic healthcare center.
"Newark is a dynamic city with a diverse population of people, many of whom face significant challenges," said Broadway House President and CEO James Gonzalez, MPH, FACHE, LNHA. "Broadway House really fills a void in our area. We serve a population that is not met by other long-term care facilities, providing a full range of medical, behavioral, and social support services. During their stay with us—which can often be several years—our residents become like family. Our goal is to see them go on to lead productive, dignified lives back in their local communities."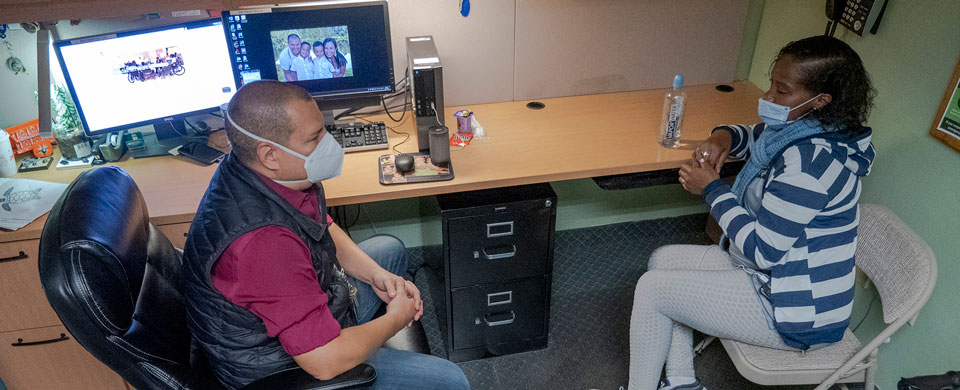 Prayers Answered
Several years ago, Phillips had lost hope for her future. The Newark resident was in a tumultuous long-term relationship that left her homeless and addicted to drugs and alcohol. It took a broken knee to finally turn the tide. After undergoing surgery at University Hospital, Phillips came to Broadway House to heal her knee and her spirit: "When I came to Broadway House, I was in a wheelchair and on methadone. It took months and months to finally get out of the wheelchair and start walking with the help of a walker. Thanks to Broadway House, I've kicked methadone and my substance abuse, diabetes, and high blood pressure are under control. If it weren't for Broadway House, I don't know where I'd be."
Phillips recently moved into a new apartment at HELP Genesis JBJ Soul Homes, a 51-unit affordable housing complex a few blocks from Broadway House with access to in-house support services, including case managementand employment assistance. Approximately a quarter of apartments in the complex are occupied by tenants living with HIV/AIDS—many of whom were referred by Broadway House. Now, Phillips is hoping to enroll in a job skills program for women to gain more confidence and help support herself: "I'm happy to have a real place to call home. My health is good, and that makes my mother so happy. Her prayers were answered."
As soon as a resident arrives at Broadway House, a comprehensive medical and support team begins working on a plan of action to restore their health and provide a wide range of personalized services. Broadway House Medical Case Manager Maria Lorenzo is part of the team that supports residents as they prepare to begin their lives anew in the community. Her role is critical for longterm success: Arranging for housing, entitlements like Social Security, and potential family support, as well as medical and mental health care that may be needed after discharge. "It takes a lot of coordination when a resident is returned to the community," she explains. "Yet, it's worth every bit of the effort."

Never Give Up
Another recent Broadway House success story is Doreen Dewoolf, who proudly moved into a new senior apartment in Newark last summer. Several years ago, Dewoolf found herself living on the streets in South Jersey, alone and addicted to drugs. Her worried son called police, and after a month-long hospital stay, Dewoolf came to Broadway House.
While at Broadway House, she received the comprehensive medical care and behavioral support she needed to beat her drug addiction and regain control of her life. Surrounded by support, Dewoolf benefited from excellent mental health and infectious disease care. Lorenzo also arranged for the Newark native to attend a methadoneclinic, qualify for Social Security and additional medical insurance, and eventually, to move into her new apartment. When the big day arrived on June 29, Dewoolf was "super psyched about leaving." Her comfortable apartment was fully furnished and stocked with a week's worth of groceries. She now also qualifies for Meals on Wheels to ensure she continues to receive proper nutrition. Dewoolf says, "It took me a while to change, but now I can see a vision for my future. I want the best for myself—and I know Broadway House never gave up on me."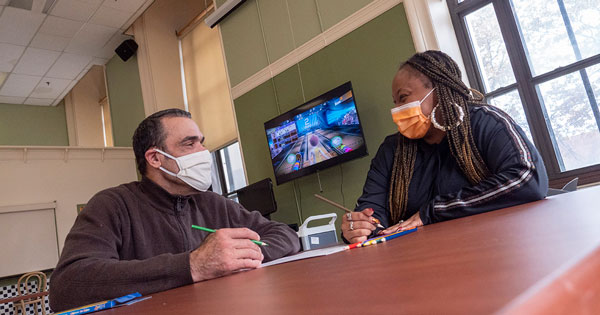 God Has A Plan
While some Broadway House residents choose to live independently after discharge, others renew relationships with family members, who can provide critical support. Since coming to Broadway House several years ago, Christine Balek had one dream: To return home to Connecticut and live with her mother. That dream became a reality on July 11, when her mother and brother picked her up to start her new life.
Balek arrived at Broadway House in rough shape. The death of her fiancé had sent her into a downward spiral and years of substance abuse, homelessness, and uncontrolled HIV had taken their toll. Entering hospice care, Christine wanted to die. Yet, the professionals at Broadway House refused to give up on her. Christine benefited from expert medical care and medication management, intensive substance abuse counseling, social services, and emotional support from trained mental health professionals. Lorenzo also helped to reconnect Christine with her family in Connecticut, working directly with them to plan for her discharge.
It took a lot of support from an interdisciplinary team, and by last spring, Christine's HIV lab levels were stable. She had also developed the ability to handle the day-today tasks of caring for herself and living independently. Reflecting on her experiences at Broadway House—and the new life she has started with her family—Christine says, "I am grateful for all the care I received while I was here. It was a struggle, but no one at Broadway House ever looked down on me. They taught me that I am worth it. Now, I know that God has a plan for me." If you or someone you know can benefit from the comprehensive care provided by Broadway House, go to www.broadwayhouse.org or call 973-268-9797, ext. 1013.