Affordable Health Insurance for College Students
By Faith Banke, in partnership with the Mayors Public Engagement Unit
School semesters are in full swing and just like I did in January 2020, students from all over are settling into this bustling city. I'm here to tell you there's one major thing many students may have missed on their back to school checklist: signing up for health insurance.
It may come as a surprise, but there are so many no-cost or low-cost options available for students like me in New York City. I promise, there's an easy (and affordable!) way to sign up–let me prove it to you.
I came to New York from my home city of Lagos to get my Master's in Public Health. In Nigeria, I had health insurance through my employer, but when I got to New York, I was a full-time student and assumed that I'd have to pay whatever health services I needed out of pocket. I hoped and prayed I wouldn't get sick, knowing I wouldn't be able to afford any expensive medical bills. I was prepared to take pain killers and suffer through because I feared that was my only option.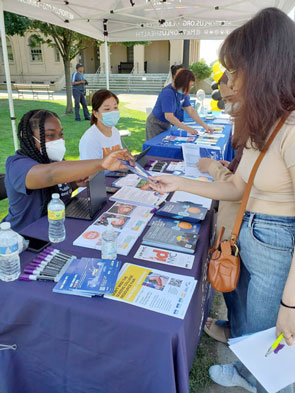 Then, I saw a post on Twitter about GetCoveredNYC. It promised free support in signing up for free or low-cost health insurance. We were at the peak of the COVID-19 pandemic and I was constantly worried about getting sick. I followed the instructions right away, texting "CoveredNYC" to the contact number (877877).
Shortly after, I got a call from a GetCoveredNYC Specialist named Gloria. Gloria talked with me for over thirty minutes, asking me questions about my situation, answering my questions, and providing me with lots of information about my options. Health insurance is complicated, and the system in the United States was completely new to me, but Gloria held my hand throughout the whole process. Because of the extended open enrollment period, if someone enrolls in health insurance by the 15th of the month, you'll be covered starting on the first of the next month, so Gloria made me an enrollment appointment with a Certified Application Counselor from the Department of Health and Mental Hygiene that day. After my appointment, Gloria reached out to follow up and make sure I was able to get health insurance. With help from GetCoveredNYC, I officially had health insurance and I ended up with a plan that felt tailor-made for me and most importantly, within my budget.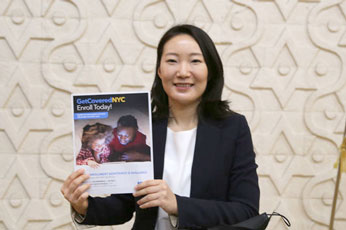 With health insurance, I have one less thing to worry about and that was a huge help for me as I finished up my studies. In the second year of grad school, I had health GetCoveredNYC Specialists at a issues that had me going from one doctor to another. I MetroHealthPlus event in Queens won't sugarcoat it: it was scary. I didn't know what was going on and my school work was suffering. But, with the health insurance I had through GetCoveredNYC, I felt very supported and all my visits, tests, and medications were covered. I can't imagine what would have happened if I'd had to pay out of pocket for these services. Luckily, I didn't have to, just because I'd texted 877877.
You can too! Text "CoveredNYC" to 877877 (SeguroNYC en Español) to be connected to a specialist like Gloria for free support.
I'll end with a note directly to my fellow international students: you may worry health coverage is not for you, but let my experience prove to you that being an international student is not a stumbling block to getting covered.
To learn more visit: nyc.gov/GetCoveredNYC