RWJUH New Brunswick Hosts Health Equity Symposium
In order to understand and address health disparities in the diverse communities we serve, RWJUH hosted its first Health Equity Symposium which included representation throughout NJ's Northern & Southern region. The Symposium was held Friday, December 9, 2022 at RWJUH New Brunswick.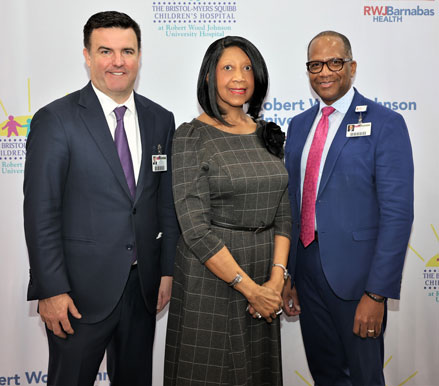 Keynote Speaker New Jersey Lieutenant Governor Sheila Y. Oliver shared her views on Understanding and Addressing Health Disparities in our Community. In addition, a series of panels outlined the rationale for adopting a comprehensive equity model to eliminate health disparities and discussed key aspects of workforce equity, harnessing a collaborative process that engages stakeholders at various levels of the organizational spectrum for equitable outcomes. Through this symposium, participants understood RWJUH's strategic priorities in alignment with our system's commitment for creating a culturally sensitive and inclusive model.
Panelists Included: Alan Lee (Senior Vice President, Chief Operating Officer, RWJUH), Dr. Meika Neblett, (Community Medical Center, Chief Medical Officer), Kathleen Arcidiacono, (Associate Vice President, RWJ and CINJ), and Dr. Gloria Bachmann (Associate Dean for Women's Health), Dr. Keith Lewis (Chief of Anesthesiology, Rutgers Medical School), Dr. Courtney Vose (Senior Vice President and Chief Nursing Officer), Manny Gonzalez, (Chief Human Resources Officer), Bill Arnold (RWJUH President and CEO), James Cahill (Mayor, New Brunswick), and Kimyatta Washington (Regional Vice President, Oncological Services RWJBH & CINJ).