Drew University's Master of Arts in Teaching Provides a Pathway for Students to Live Their Passion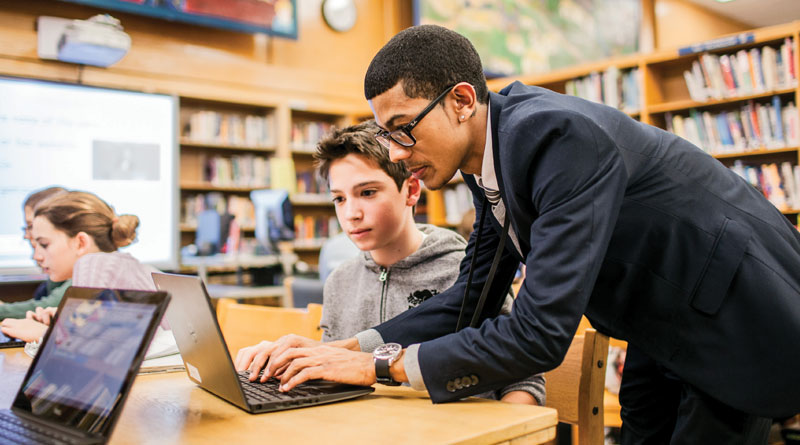 Drew University's Teacher Education programs develop teaching skills by blending coursework with real-world, hands-on experiences. Students collaborate with faculty mentors on understanding the needs of diverse learners in a highly networked world. Specifically, Drew's Master of Arts in Teaching (MAT) program provides initial certification for people ready to become teachers.
Teacher candidates participate in clinically rich coursework in a variety of learning environments in urban and suburban settings.
Over 92 percent of students qualify for scholarships or other financial assistance, including a Special Educator Scholarship, making Drew an affordable option for college graduates and professionals who do not yet have a teaching license but have a passion for educating the next generation of learners.
Drew's program leads to an MAT degree with certification to teach in elementary or secondary education.
Candidates can complete the 36-credit plus fieldwork program in a one-year accelerated program commencing in the fall, spring, or summer. Students in the program may select either an Elementary Education (K-6) or Secondary Education certification. Students also have the option to complete the program requirements over two years.
With an additional summer of study, students can add a second certification in English as a Second Language or as a Teacher of Students with Disabilities. The English as a Second Language certification prepares teachers to work with students from diverse linguistic and cultural backgrounds.
The certification in Teacher of Students with Disabilities builds the right foundation to teach students with diverse abilities, learning to adapt content and teaching methods as appropriate to the needs of children with a range of mental, physical, social, or emotional differences.
The success of the program is evident in the statistics. One hundred percent of Drew's completers met New Jersey required scores for the Praxis Core (or equivalent), Praxis II, and edTPA assessments. One hundred percent of Drew's 2020 and 2021 graduates were hired in teaching positions.
The program combines university coursework, lively classroom discourse, and practical field experience that provides hands-on learning. Small class size fosters interaction with core faculty and provides opportunities to develop and practice individual skills.
"One of Drew's many hallmarks is its networking opportunities, and the MAT program is no exception," said Haley Watson C'20, G'21, English teacher at West Morris Mendham High School.
Drew's faculty are educators with vast experience in instructional design, special populations, elementary and secondary education, historical and contemporary issues that affect access to education and outcomes. "The support of the professors and faculty in the education program at Drew really helped me achieve this success and prepared me for my career," said Mat Diaz G'22, Chemistry and Biology Teacher at Livingston High School in Livingston, NJ.
Drew's Caspersen School of Graduate Studies offers seven master degree programs, two doctoral programs, and eight certificate programs.
All programs are based on Drew's renowned commitment to faculty-student mentorship, opportunities for out-of-the-classroom, experiential learning, and facilitating a robust intellectual community.
For more information, please visit drew.edu/caspersen or call 973.408.3111.