brightstarts boldfutures!
David C. Banks: A Legacy of Literacy

By Glenda Cadogan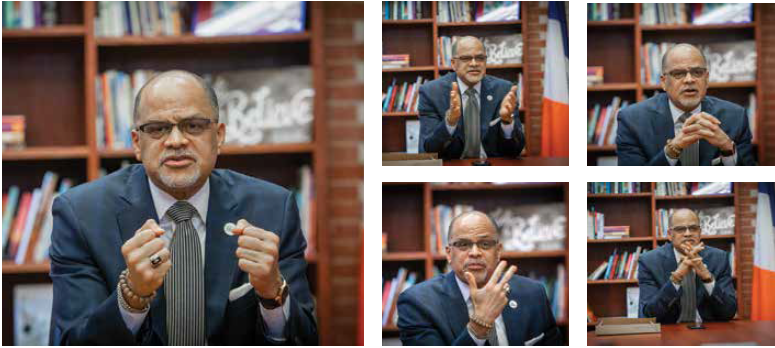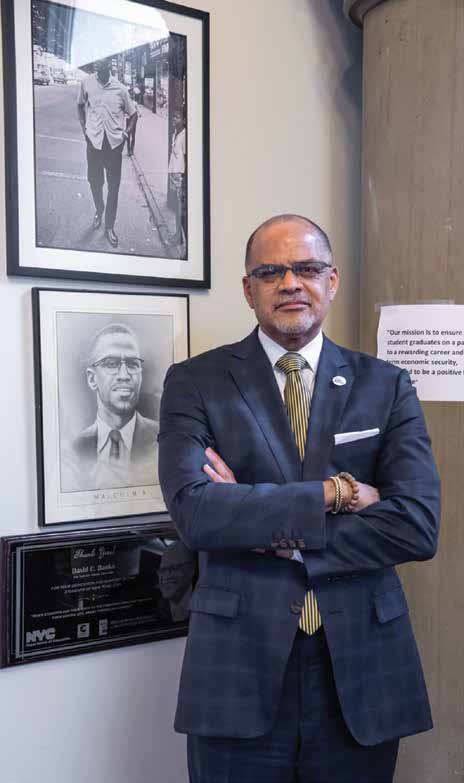 David C. Banks, a veteran educator, assumed the position of chancellor of New York City Public Schools one year ago. He faced a volatile time for a city staggering out of a pandemic that resulted in widespread school closures and children attending classes virtually. A daunting time for parents and educators alike, Banks boldly stepped up and put his experience to work to turn around a system grasping for wise leadership. His determination then, as now—to leave a legacy of literacy.
Like any good leader, Banks—from his vantage at the Tweed Building, home of the New York City Department of Education (DOE) in Lower Manhattan—surveyed the lay of the land he inherited. What he found may have been intimidating to a lesser man, but not for Banks—confident in his belief that his wide range of life experiences prepared him for the job.
"The first thing I found was a lot of bright, smart, committed people in a system that was fundamentally flawed," he said. "There was a huge disconnect between the good people who cared for our children, worked hard, and tried their best; and the bad results we get as a system," Banks said about his initial review. Second, the chancellor's survey unearthed "a broken trust coming from family and community members. People were so used to fighting with the administration. It's very interesting to see the depth of feeling from people in communities around the city who feel that DOE doesn't care about what happens to their kids. Third, it is only while sitting in this seat that you can fully accept how massive the school system is," he said, adding, "It is the largest in the nation and there is not even a close second. The whole world actually lives here in New York." However, as Banks soon learned, this diversity is one of the greatest challenges in righting historical wrongs.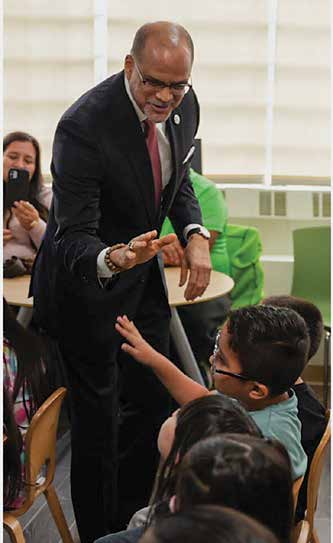 Speaking of his "range of life experiences," which prepared him to take on the monumental task of educating 1,000,000 ethnically and culturally diverse children and their families, Banks highlighted his schooling and early career. "A product of the New York City Public Schools," Banks said his was "an excellent school experience every step of the way from head-start to twelth grade. Punctuated by the twin blessings of great school teachers who exposed him to Black history and reinforcement at home by involved parents—Phillip and Janice Banks—his role models to this day, "I grew up with a profound sense of knowing who I am as a Black man. People fought, bled, and sacrificed for me to grow up and be successful," he said. "I had an obligation to give back to my community." He singled out teachers like Mildred Scott, who in the fourth and fifth grades exposed students to the depth of Black history teaching them about Denmark Vesey, Sojourner Truth, and Frederick Douglass.
The Rutgers graduate's next nugget of life experience involved his return to the fourth grade class as a teacher able to pour into kids the richness of what he received as a student. "My first job in the system was actually as a school safety officer wearing a uniform and breaking up fights in hallways. But as a teacher, I saw young people not getting the kind of educational experiences I received." So though teaching was not his first choice of profession, at age 22, Banks took on that mantle of leadership with a Herculean disposition. Banks later earned a Juris Doctor degree from St. John's University Law School.
During a press conference, the incoming chancellor expressed his intent to make parents and family "true partners" in his transformation plan. "Those were not just empty words," he told The Positive Community one year later. "Having involved parents is part of my DNA; it is how I move and operate. Parents and community members need to be part of creating the path forward. It has been there with me since Eagle Academy," Banks added, referring to the network of innovative all-boys public schools in New York City and Newark, NJ, of which he is founding principal.
The range of opinions on what's needed to fix New York City schools is wide, but there is a commonality in a laundry list of issues most often thrown at the chancellor. They include overcrowding, teacher training, parent involvement, communications, and safety. Chancellor Banks gave his opinion on these hot-button topics and then threw one of his own on the pile.
"People talk a lot about overcrowding, but apart from a few pockets in Queens, the fact is the average class size in New York City Grades K–12 is twenty-two. In addition, the new Class-size Bill mandates a class size of 20 students." Though both Chancellor Banks and Mayor Eric Adams showed hesitancy about the legislation passed last year by the NYS Senate, it was never due to its face value in reducing class size, but doing so as a mandate. "All the research tells us that the greatest impact in reducing overcrowding comes at the elementary school level," he pointed out. "The far more important factor in older grades is teacher quality. My concern was about schools having some flexibility. But no chancellor would stand against reducing overcrowded classes." Regarding safety Chancellor Banks said "We've been fortunate in that the number of safety incidents in our schools has not increased appreciably. Our schools have been a safe haven for young people, but the problem is incidents that happen outside of school, around the corner, and down the block. That's the real issue. And on that we are working with the mayor, the police department, and community leaders to send the message that safety of our children is the responsibility of the entire village."
Banks challenged parents that this, too, is an area in which they can become involved. "Parental involvement is not just about meeting with the chancellor to tell him what you need. It is also about coming together and organizing safety patrols on behalf of our children. This is not us against them; it is all of us working together for the safety of our children."
After addressing these issues, Chancellor Banks put his own on the table. "To me the number one question should be, how come our kids can't read? "Forty-nine percent of New York City's school children are not reading at grade level," he explained. "In Black and Brown communities that number jumps to 65 percent, yet no one is asking why. Why are we struggling to make sure our kids are literate? We are playing around in the margins because we are missing what's at the core of our
"When I am done here I don't want to be known as just a nice guy. I want people to say we put young people on track; that we reshaped how we taught our kids to read." Throw in also being known as "The Arts Chancellor" and Banks will be a happy man.
mission. I believe teaching our children how to read isthe answer to so many of the other issues we worry about. If children become literate, the possibilities of what they can do in life become limitless. Literacy is my focus."
The theme coined for his administration, Bright Starts. . . Bold Futures, is what he is banking on to become his legacy. "When I am done here I don't want to be known as just a nice guy. I want people to say we put young people on track; that we reshaped how we taught our kids to read." Throw in also being known as "The Arts Chancellor" and Banks will be a happy man. "I deeply believe that arts feed the soul and lift the spirits of kids," he said. "It's another way that speaks to youth development. But ultimately, what I would want to leave as my legacy is literacy."