Kean University President Repollet Attends White House's National Summit on Equal Opportunity in Higher Education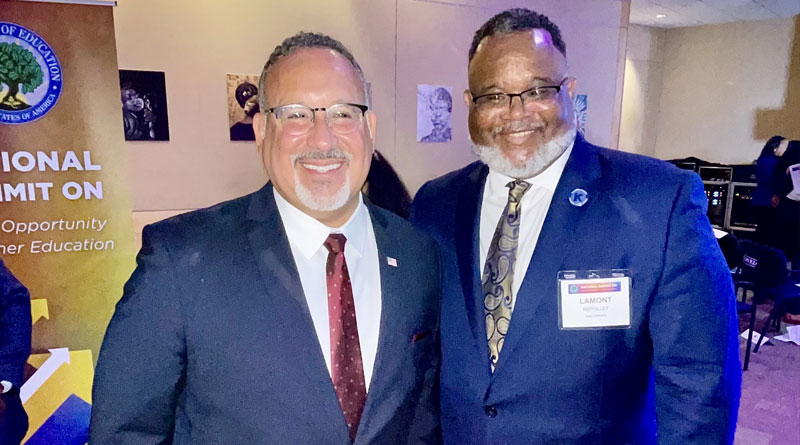 Kean University President Lamont O. Repollet, Ed.D., today joined U.S. Secretary of Education Miguel Cardona, key members of the Biden-Harris Administration and other higher education stakeholders at a Washington, D.C., summit on equal opportunity in higher education.
The National Summit on Equal Opportunity in Higher Education brought together college and university leaders, researchers, advocates, student leaders, tribal leaders and others to discuss strategies for colleges to expand higher education access after the recent Supreme Court rulings on affirmative action.
"Diversity is one of our greatest strengths at Kean University, and I am proud to be part of the national discussion to foster equity and inclusivity across our country's higher education institutions," Repollet said. "We have an obligation to our students and the generations that will follow them to craft vibrant, diverse campus communities that celebrate all voices and prepare students to succeed in the global world."
The U.S. Department of Education hosted the National Summit, which included workshops and panel discussions. Following a keynote address by Cardona, the summit focused on strategies that higher education leaders can pursue to reimagine admissions, build affordable college pipelines, and create inclusive campus communities that support student success and completion.
Participants from the Biden-Harris Administration included White House Domestic Policy Advisor and Assistant to the President Neera Tanden; U.S. Department of Education Under Secretary James Kvaal; Assistant Secretary for Civil Rights Catherine Lhamon; and Assistant Attorney General for Civil Rights Kristen Clarke.
Repollet said the summit marks a critical time in the history of higher education across the country.
"Events like today's summit help education leaders determine the best path forward following the Supreme Court decision so we can continue to promote equal opportunity for all students," he said. "As a proud Hispanic-Serving Institution and Minority Serving Institution, Kean is leading the way in building a college pipeline for students from all backgrounds. We will continue to make this important work a top priority."
In addition to Kean, colleges and universities represented included the University of California, Los Angeles (UCLA); the University of Michigan; Stanford University; Morehouse College; Harvard, Princeton and Brown Universities.