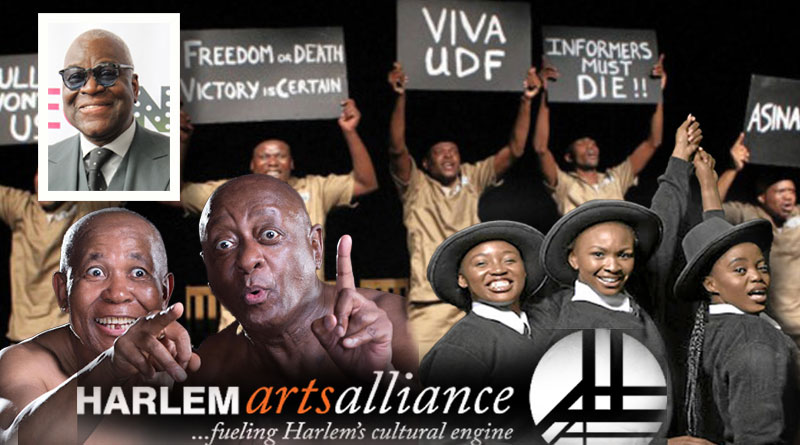 by Voza Rivers
I grew up on West 132nd Street between Fifth and Lenox Avenues. My street, during the '40s and '50s, was a typical Harlem tenement block, consisting of the working class folks, some newly arrived from the South and the Caribbean. I learned community service from the sharing, caring, and teamwork that existed in the Colonial and Rucker Parks. I learned leadership training at the Harlem YMCA. I attended local parochial and public schools.
At age 17, my grandfather came to New York City from Jamaica. In his mid-30s, his vision began to diminish and he relied on me to read the newspapers to him daily and to be his eyes. He taught me about real estate, Harlem's history, and its musical treasures.
As a young boy with my grandfather, I had a chance to visit historic dance halls like the Savoy, the Cotton Club, the Renaissance, Golden Gate, Rockland Palace, and Connie's Ballroom. Not only did I visit these places, I was also reading aloud the contracts and artists' agreements necessary for my grandfather to rent the halls and book the talent. This was my entrée into the world of entertainment.
A Life in Theater
In the early '60s, I took a public speaking class at the local YMCA, where I met a guest speaker named Roger Furman. He was starting a new company based on the American Negro Theatre model from the '40s, and requested volunteers. After several months of rehearsals, I decided that being an actor was not for me.
I told Roger I wanted to resign from the company. He reminded me that acting was only one part of the theatre; there were many other opportunities to be part of the company.
The next evening, he put me to work learning the box office operations. I began assisting Roger in buying props and materials, building sets, painting the stage, focusing lights, and collecting audience tickets. I eventually became the business manager and producer for the theatre.
When Roger passed away in 1983, I inherited the responsibility of running all aspects of the theatre. One of the first things I did was rename the company The Roger Furman New Heritage Theatre, in honor of my mentor. Then I began to try to expand on his dreams.
South Africa in Harlem
In 1984, I saw the anti-apartheid play, Woza Albert! in a small theater in Greenwich Village. Mesmerized, my colleagues and I approached the producer to ask if it would be possible to bring the play to Harlem. According to him, it was not possible. I explained to him the significance of what a show like this would mean to the Harlem community and he finally capitulated, The actors had a few days left on their stay in this country, Without a pause, we mounted the play at our little theater in Harlem—three shows in three days. It was a sellout.
The actors went back to South Africa and wrote a second play, Asinamali, (Zulu for "we have no money"). He insisted the premiere be in Harlem before touring the United States. I foolishly thought that based on the success of the first South African production, it would be easy for us to produce the second play. I applied for a visa to go to South Africa to see the production, but I was denied. I had been blacklisted by the South African government because of my involvement in the previous anti-apartheid play. I had to listen to the play rehearsals over the phone—quite a feat back then.
Thanks to God, though, in 1987 after eight weeks of performances in Harlem, the play opened on Broadway produced by Harry Belafonte, Miriam Makeba, Paul Simon, and others who had seen a Harlem performance. It even won a Tony Award for Direction of a Play for Mbongeni Ngema. I learned a couple of lessons from that adventure: Number One: Never assume that because you were successful the first time, the same results are automatically guaranteed in your subsequent endeavors. Number Two: If you really want to do something, you will find a way. I wanted to produce a play that was in rehearsal, and I did.
True Love
My love affair with Harlem is ongoing—I'm still working and producing and if you asked me to paint Harlem, I'd run out of colors. If you asked me to sing Harlem, I could sing forever. If you asked me to produce plays on Harlem, I'd never run out of material. Harlem, my hometown.