Honoring Newark Heroes: Wayne Brooks Jr. and Augusto Acabou
By Steve Walkers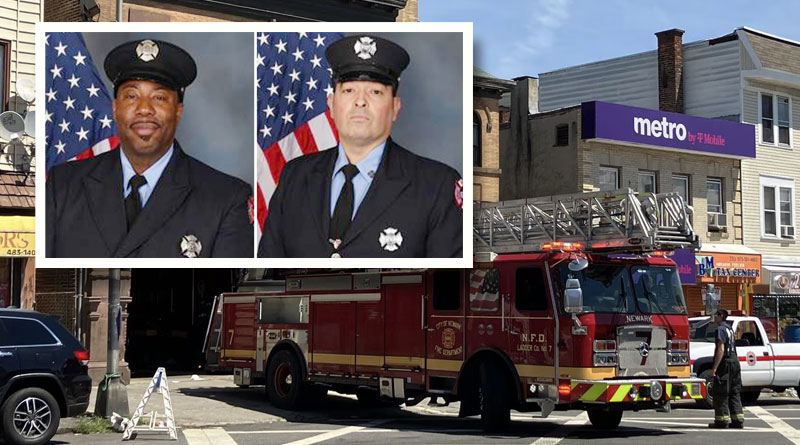 To their families and coworkers they were know as "Bear" and " Augie." We know them as brave firefighters. Newark firefighters Wayne Brooks Jr., 49, and Augusto Acabou, 45, responded to a ship fire in Port Newark on July 5, 2023. The two veterans, part of a multi-city firefighting response from Newark, Jersey City, Elizabeth, Hackensack, Bayonne, and elsewhere, raced to control the roaring flames. A 12-story cargo ship, The Grande Costa D'avorio, loaded with nearly 1,200 used and damaged vehicles burned for six-days before being fully extinguished. Tragically the fire claimed the lives of both Brooks and Acabou and injured at least six other firefighters.
Funeral buntings draped over Newark firehouses and lowered American flags ordered by New Jersey Governor Phil Murphy honored the men. At a wake in Newark's Cathedral Basilica of the Sacred Heart, condolences from Mayor Ras Baraka, calls from President Joe Biden, and the President of Portugal (Acabo's family heritage) showed the heartfelt sorrow of the entire city and country.
Brooks, a 16-year veteran of Ladder 4, Tour 1, is survived by his wife, Michele; and two daughters: Taylor, 21 and Daisa, 27. Acabou, a nine-and a-half year veteran of Engine 16, Tour 1, is survived by his longtime girlfriend and several family members. After both men aced the tests, promotions to captain seemed imminent for the hero firefighters before their untimely deaths.
Roger Terry Sr, a former police officer in nearby Montclair, NJ, still struck by the loss of his larger than life nephew, "Bear" Brooks. He spoke proudly about the nephew he watched grow into a man. "He took the test to be a police officer, following the same path with us and passed the test. But then he took the firefighters' test and came in number one," Terry recalled. "There's something in our blood, and I believe it comes from my mother, who worked up in the local courts; she was such an open person and liked life so much and helping people."
Terry said Brooks loved being a firefighter and had a passion for cooking. He often showed off his love for the culinary arts at the firehouse and took pride in making his signature crab cakes and his specialty pizzas for his fellow firefighters. Just weeks before, Brooks and family members relaxed on the deck where I met Terry, quibbling over who was going to use their respective barbeque skills in an unattainable pursuit of the title of backyard grill king. "He wasn't just my nephew, he was one of my closest friends."
For the Acabou family, the loss of the always positive and persistent eldest Acabou broke up the trio of brothers who had played sports together through the Newark school system, especially at Eastside High School where they cheered "Augie" through his every triumph. Brothers Miguel "Mike," a former Newark police officer and now police captain in nearby Clark Township; and John, a computer programmer, reflected on their loss in somber tones and glowing memories.
In 2014, Augie answered the call and joined the Newark Fire Department. He grew to love the work, especially the ability to help people in the community. "He loved being a fireman," said Miguel. John Acabou said his big brother played softball in leagues throughout Newark in recent years. He said the last few weeks have been difficult without his positive presence. But somehow, the fact that his cousin Hugo, also a Newark firefighter, was the one who found Augie that fateful night, brings the family a small bit of comfort.
John said his charismatic brother could light up any room with his smile and personality. His profound love of sports radiated through everything he did. He recalled when Augie met his idol, Muhammad Ali, and was even able to get The Champ to sign sports paraphernalia, while making him laugh by imitating one of his patented catch phrases. "There are no words," John said. "As far as just being a sibling, it's just we were close and he was my older brother. We were three and now we're not. It's like something's been ripped apart and stolen from us." Both families struggle with their loss, but find comfort in the knowledge that they served valiantly and will never be forgotten. Wayne "Bear" Brooks Jr., and Augusto "Augie" Acabou truly two of the bravest.