Mount Sinai Mobile Prostate Unit Reaches Underserved Communities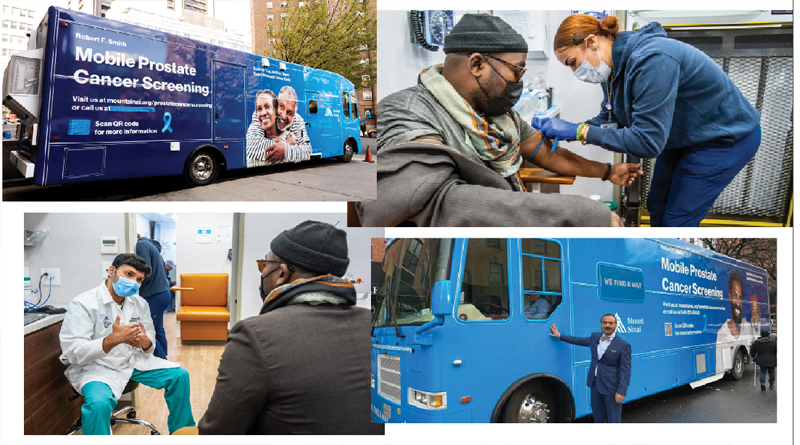 An innovative effort by Mount Sinai to improve early detection of prostate cancer among at-risk populations in New York City is proving to be a great success since its introduction last year—raising awareness and potentially saving lives.

The Mount Sinai Robert F. Smith Mobile Prostate Cancer Screening Unit was launched with great expectations and much fanfare on April 1, 2022, including being featured on NBC's Today show. The mobile unit is funded by a $3.8 million donation from philanthropist Robert F. Smith to support a proposal prepared by Ash Tewari, MBBS, MCh, Professor and Chair of the Milton and Carroll Petrie Department of Urology, Icahn School of Medicine at Mount Sinai. It is focused on educating Black men about the prostate while providing prostate cancer screening and referring for treatment when needed.

Since the introduction of the mobile unit, more than 3,000 men have been screened. And importantly, between 15 percent and 18 percent of all those screened had a PSA of 2.5 or above. They were referred for follow-up care with a urologist.

To reach as many people as possible, the mobile unit team is working with local churches, health centers, and community groups. The Department has partnered and supported more than 115 events at local churches, street health expos, and charity events throughout New York City and in nearby Westchester and Orange counties, as well as visits to Atlanta, Georgia, and Orlando, Florida. The bus also participated in the Annual African American Day Parade in Harlem.

On September 29, 2023, the mobile unit will participate in the Community Health Fair at Mount Sinai Phillips School of Nursing, 148 East 126th Street, sponsored by the School of Nursing and the Department of Urology.