Dr. Patricia Ramsey: First Woman President of Medgar Evers College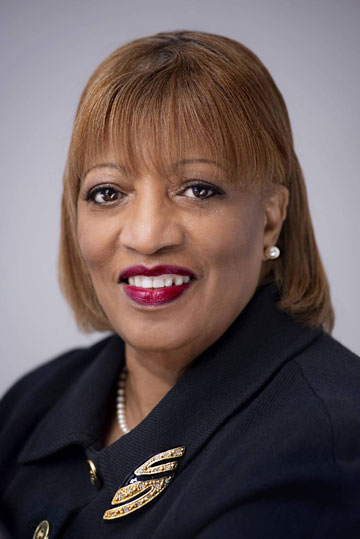 Distinguished as a "National Role Model" by Minority Access, Inc., Dr. Patricia. Ramsey, a leader and a scholar with a deep commitment to excellence and a passion for making a difference took the reins of Medgar Evers College as president in March 2020. She comes to Medgar Evers College from the Thurgood Marshall College Fund (TMCF), where she served as senior executive fellow.
Her perspective is unique and experience, solid. She received both undergraduate and graduate degrees from Historically Black Colleges and Universities (HBCUs). During her career President Ramsey has served in high-level positions at four HBCUs —Lincoln University as provost and vice president for academic affairs, and Bowie State University as a tenured full professor, provost, interim president, and chair of the department of natural sciences. At Norfolk State An experienced strategist and action-oriented leader, Dr. Ramsey negotiated a $1.3 million award at Norfolk State. With a formidable talent for swiftly assessing the situation and developing a plan of action, she created the infrastructure that resulted in $10 million in grants and contracts in less than two years at Shaw University. With experience in Europe and Africa her view is global.
"Social justice is in the DNA of Medgar Evers College, and the pandemic exacerbated these issues," President Ramsey replied when we asked about her experience at Medgar Evers during the Covid 19 shutdown. "We are an institution that grew out of the community's struggle for a senior college in Central Brooklyn, and therefore, the college and the community are inextricably linked. Our community was one of the hardest hit during the pandemic, and since most of our students hail from the borough of Brooklyn, our students were greatly impacted," she continued. "The food pantry at Medgar Evers College, for example, saw increased demand for services. True to our mission, we have staff members who risked their own health and safety to take bags of food to the homes of our students in need. I commend them for that."
With a Master of Science in Botany from Howard University, a Master of Arts in Biology from Harvard University, and a Ph.D. in Biology from Georgetown University, Biology is clearly her wheelhouse. Ramsey has a research interest in the biological activity of plants used in folklore. She has collected 110 species of agave in the Sonoran Desert, and traveled a 450-mile span of highway collecting sapium sebiferum (popcorn tree) leaves in the southeastern United States Dr. Ramsey received her undergraduate degree from Norfolk State University, where she earned a Bachelor of Science in Biology Education. She completed executive leadership programs in AASCU's Millennium Leadership Initiative (MLI), Harvard's Institute for Educational Management (IEM), and the CIVIC Leadership Institute.
Though has the distinction of being the first female president of the college, Dr. Ramsey firmly states, "As president of Medgar Evers College, I'm not focused on being the first female president but on comprehensively providing the best education that we can for the success of our students and their families. It is my vision that through accountability, continuous improvement, community engagement, equity, sustainability, and student success (A.C.C.E.S.S.), Medgar Evers College will become a model of social justice for this nation. I have no doubt that working together with intentionality, there is no limit to what we can achieve."
Dr. Ramsey is married to Dr. Roscoe Ramsey, Jr., a physician and an ordained minister. They have three adult children and two grandchildren.